UltraViolet Reaches 20 Million Registered Users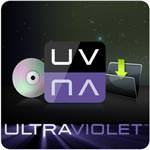 According to a recent survey from the NPD Group, the number of registered users for UltraViolet has recently topped 20 million accounts. This is a major milestone for the service, which has grown tremendously since it debuted in 2011.
2014 was a great year for UltraViolet, which saw its user base grow 33% from the same time last year. More than 15% of US households are now using the service, which is expected to continue growing in 2015.
Of the 20 million registered users, more than 1.5 million are from the UK alone. UltraViolet made its international debut in 2013 and is now available in 13 countries. Holland, Belgium, and Luxembourg were added this year. More growth in the European market is projected for 2015.

UltraViolet is a cloud-based "digital storage locker" that bridges the gap between traditional retail-packaged movies and online streaming services. It allows users who have purchased a retail copy of a movie to access a digital copy of the same movie on nearly any connected device. UltraViolet users can access their movies through their smart TV, home computer, tablet, smartphone, and even video game systems.
Users are able to add digital files to their locker by entering an authentication code that is included with a retail DVD or Blu-ray purchase. The success of the UltraViolet system is proof that consumers are not ready to abandon optical discs just yet – in spite of what the press and Netflix are saying.
When it comes to high-definition content, the Blu-ray disc format offers the most bang for your buck in terms of dollars per gigabyte of storage. Blu-ray offers a consistent and high-quality user experience that is not dependent upon connection speed or wireless reception, and offers far superior quality versus streaming video as well.
Make sure to bookmark our blog or add us to your news reader to stay up to date on UltraViolet and other industry news stories.