Qumu Sells Rimage Corporation for $23 Million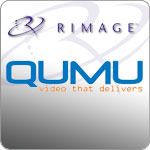 In the world of business, companies must adapt to changes in their environment. If they do not adapt, they risk being passed by.
With the market for CD and DVD products shrinking, many companies in the duplication business have branched out into other industries.
Microboards technology has gotten into 3D printing with their Afinia 3D printer. Primera Technology has moved into the labeling industry, with a full line of color label printers and applicators. As for Rimage, they made a big push into enterprise video back in 2011 when they purchased San Bruno, California-based Qumu, Inc. for $52 million.
Rimage and Qumu merged into a single entity in September 2013, with Rimage adopting the Qumu name and stock ticker symbol. The Rimage website was also taken down and redirected to Qumu. It appeared as though the two companies had become one.
Then in March of 2014, Qumu curiously announced that they would be relaunching the Rimage website in April, which they did. On April 24th, a Press Release was issued that Qumu would be selling off Rimage to Equus Holdings, a Minnesota-based technology business that owns several other companies. The all-cash transaction is valued at $23 million and is expected to close by July 31, 2014.
If you're keeping tabs on the numbers, buying a company for $52 million and selling it for $23 million is not a savvy financial move. That $29 million dollar loss must end up on someone's books.
The whole situation is reminiscient of the MySpace debacle, wherein NewsCorp bought the world's #1 social networking site at the peak of its popularity for $580 million, only to sell it 6 years later for a mere $35 million – a monumental loss.
However, the deal could also turn out to be a positive thing for Rimage. Take a look at Lamborghini for example. The Italian automaker ran into financial trouble in the 1980s and was purchased by Chrysler, was then sold to a private investment group, and was then sold to Volkswagen as a subsidiary of Audi. Throughout the years and different owners, Lamborghini has not forgotten their vision of building some of the finest cars in the world.
Perhaps the chance to be an independent company once again will give Rimage the boost they've been looking for. Who knows? Only time will tell.