CES 2014: Pioneer Shows Off Latest Blu-ray Drives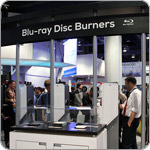 At the 2014 International CES show in Las Vegas, I was on the hunt for some exciting data storage products and innovations. At the Pioneer booth, I was wowed by the variety of Blu-ray drives on display!
Pioneer is a founding member of the Blu-ray Disc Association and has backed the format since its inception in 2004. They are also one of the few companies still rolling out new internal and external drives with the latest Blu-ray capabilities. We've written about Pioneer's new hardware in recent months, but it was still pretty impressive for me to see the drives with my own eyes!
First up was the BDR-2209, a 5.25″ drive for use in a full size computer tower case. It boasts an incredible 16X write speed for BD-R media, making it the fastest drive currently available on the market today. This drive also supports triple-layer BDXL discs up to 128GB in size!
This drive also has several advanced features for the home movie enthusiast. If you watch movies on your PC, you will appreciate Pioneer's PowerRead™ technology, which allows discs to play smoothly even if they are scratched, dirty, or fingerprinted. The Auto-Quiet mode automatically adjusts the playback speed of the disc as necessary, which reduces noise when watching a movie. It is available in stores and online with an MSRP of $99.99.
Another drive on display was the BDR-XU03. This is Pioneer's thinnest external Blu-ray drive, and also the only one with a metal body. At just 12mm (0.47″) thick, it's almost the same thickness as a DVD case. This drive is excellent for laptop or ultrabook users thanks to its high-speed USB 3.0 interface. The drive is completely bus-powered and requires no external wall adapter!
Additionally, it can read and write Blu-ray, DVD, and CD discs as well! The only thing this drive does not support is Blu-ray XL. It is on sale now with an MSRP of $189.
Pioneer also had a pair of slim external drives on display for PC and Mac users. The BDR-XD05 has a black finish and supports PCs while the BDR-XD05W is finished in white and is targeted towards Apple users. Both drives offer 6X Blu-ray recording in a super lightweight form factor that weighs in at just 8.5 ounces!
These bus-powered drives run off a USB 3.0 connection and are suitable for desktop or laptop use. The XD05 retails for $99 while the XD05W retails for $89.
I enjoyed seeing what Pioneer has to offer at CES 2014. The storage capacity and cost-per-gigabyte of a Blu-ray disc is hard to beat, especially at these prices! We look forward to more great products from Pioneer later this year.