CES 2014: Panasonic Announces New Blu-ray Players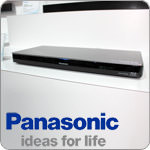 We saw a lot of exciting new technologies at the International CES show in Las Vegas earlier this month. One of the ones that caught my eye was a new line of Blu-ray disc players from Panasonic.
For 2014, the company is planning to launch a line of three Blu-ray players. I'm going to take a minute to talk about each of them and what makes them different.
Panasonic Smart Network 4K Plus 3D Blu-ray Player
The top of the line model from Panasonic is this DMP-BDT360, which does just about everything. It plays regular Blu-ray and Blu-ray 3D discs. It can up-convert Blu-ray discs to 4K UltraHD resolution, which is a very cool option if you are thinking of making the leap to a 4K television in the next few years.
It has built-in Wi-Fi and supports Internet connected apps. It can connect to your home network and stream content from a network drive. Yep, this fully loaded model has everything. No word yet on price or availability.
Panasonic 3D Blu-ray Player
Towards the value end of the spectrum is the Panasonic DMP-BD81. This is a compact unit that supports Blu-ray and Blu-ray 3D discs. Network connectivity is available on this model with an optional WiFi LAN adapter, unlike the previous model which has it built in. This is pretty much a no-frills disc player that will hit a lower price point than some of Panasonic's other models.
Panasonic Smart Network 3D Blu-ray Player
Right in the middle of the lineup is the DMP-BD91 player. Think of this as the "pro-sumer" model. It's got more features than the BD81 but does not have the 4K Upconversion that the fanciest model has.
The DMP-BD91 will support playback of Blu-ray and Blu-ray 3D discs and has a built-in WiFi adapter to connect wirelessly to your home network. Like its big brother the BDT360, it also supports streaming media over your home network and a variety of Internet-connected apps.
These new players from Pansonic continue to show off the incredible flexibility (as well as the storage capacity) of the Blu-ray disc format. Although I wasn't able to speak with Samsung at CES, I imagine these players will be ready for market by this summer.