CES 2014: OWC Brings Storage Accessories for Mac Users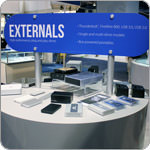 The folks at Other World Computing know first hand the challenges of finding third-party hardware for Apple computers. That's why they have been coming up with Mac-focused drives and storage solutions since 1988.
I caught up with OWC at the 2014 International CES show to see what was new and exciting. As it turns out, there's quite a lot!
OWC makes a wide variety of products to expand your computer's storage, from solid-state drive (SSD) upgrade kits to RAID drives and more. One of the most basic ways to add more storage to your system is with an external disc drive.
The Mercury Pro is a 16X Blu-ray burner from OWC that supports FireWire 800, FireWire 400, and USB 3.0 connections. This allows for fast read/write speeds no matter where you hook it up! It also allows you to burn up to 50GB on a dual-layer Blu-ray disc right from the Finder. Now that's cool! This drive retails for $169 online, or $219 if you get it bundled with Toast 11 burning software for the Mac.
For a more portable solution, check out OWC's Value Line Slim drive. This portable drive weighs just 4.3 ounces, so it's small enough to slip in a laptop bag or carrying case. The drive features 6X Blu-ray recording and a Hi-Speed USB 2.0 interface. At just $95.00, it's a bargain-priced way to add more storage space without opening up your computer at all!
Finally, the Mercury Pro 16X DVD drive with the LG M-Disc burner allows you to record on special M-Disc media for archival purposes. It offers the same FireWire 800, FireWire 400, and USB 3.0 connection options as the Blu-ray burner above, which is convenient.
If you're looking to bring Blu-ray capabilities to your Mac, look no further than Other World Computing!