Duplication Year in Review 2013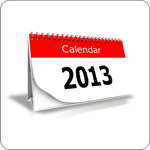 As we are less than a week away from the new year, I would like to take a moment and reflect on the biggest news stories of the CD duplication industry in 2013.
In January, an article we ran about How to Burn CD/DVD/Blu-ray Discs in Windows 8 went on to become our most popular post of the year.
The new Microboards G4 line of CD/DVD publishers went on sale in February, replacing the outgoing G3 publishers. We also wrote about Sony officially ending production of MiniDisc players.
In March, we introduced you to the new line of Producer IV publishers from Rimage. We also published a great Guide to Starting a CD Duplication Ministry for churches who are looking to start a duplication ministry.
May was an exciting month with big news in the Tech industry. We wrote about TDK withdrawing from Blu-ray manufacturing and National Photography Month. Of course, the biggest news item that month was Microsoft's demonstration of the all-new XBOX One game console featuring a Blu-ray disc drive.
In June, we got word about Rimage changing their name to QUMU by the end of the year. We also got our first peek at the new Mac Pro, a long overdue redesign of Apple's high-end desktop computer which is notable for its lack of an optical disc drive.
Summer was a bit slow, but we did report on Epson's release of the updated DiscProducer GenII featuring USB 3.0 in July.
We heard about High-Resolution Audio for the first time in September. This month, Philips introduced the world's first Blu-ray player that upscales to 4K UltraHD resolution.
October brought about the first new product from TEAC in years: a medical-grade Blu-ray recorder for backing up patient records and files. We also saw a brand-new wireless Blu-ray drive from Pioneer that astounds with its myriad of features.
In November, we brought you two stories about the launch of the highly-anticipated Sony PlayStation 4 and a preview of some of the technologies we are looking forward to at the 2014 International CES trade show next January.
The year 2013 was an exciting one for the duplication industry with lots of new product announcements and launches. The CDROM2GO Blog would like to thank our readers and let you know that we expect to bring you more of the tech world's top stories in 2014!