Sony PlayStation 4 Requires One-Time Activation to Watch DVD, Blu-ray Movies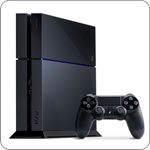 There has been a lot of buzz surrounding the PlayStation 4, the first all-new game console from Sony since the PlayStation 3 came out seven years ago. If you are one of the millions of gamers with the PS4 at the top of your list, I've got good news for you: Christmas is comin' early this year! That's because the PS4 goes on sale in North America on Friday, November 15th.
But if you're anticipating playing Call of Duty: Ghosts or one of the other exciting launch games, you'll have to take care of two little things before you can jump into the gameplay.
An interesting quirk is that the console requires a one-time online activation before it will let you watch movies. Like its predecessor, the PlayStation 4 also includes a Blu-ray disc drive for watching high-definition Blu-ray and DVD titles. This was a major selling point of the PlayStation 3, since it came out at a time when most households did not yet own a Blu-ray disc player. However, the online activation part is a new step that wasn't required on previous consoles.
The second "gotcha" about the PS4 is that although the console is not even out yet, Sony has already released an update to the PlayStation 4. The update, called System Software v1.50 is a 300MB patch that adds a lot of crucial features to the PS4. These include Remote Play (so you can connect your PS Vita handheld to the PS4), Multi-User log in, Voice Chat, Facial Recognition and Voice Commands, Background Music Player, and more.
I know it won't take long to download and install a 300MB file over a broadband Internet connection. Users have already waited seven years for this machine, they can wait a few more minutes for an update to install. But on the other hand, it's a matter of principle that a brand new $399.99 console is not ready to use out of the box, and I feel that makes for a poor user experience.
Once you get your PS4 updated and activated, you can enjoy the amazing graphics generated by this powerhouse of a console. With 8GB of DDR5 RAM and a 500 GB hard drive, it's got the hardware muscle to deliver the most realistic environments and fine details you've yet seen outside a PC.
The real heart of the matter is the GPU, which is an array of 18 "Compute Units" that deliver a combined 1.84 teraflops of processing power. Now that's impressive!
If you still have questions about the PS4's capabilities, I highly recommend you check out Sony's extensive 160-question FAQ on the Official PlayStation Blog. It's a great read if you are excited to learn more about the new console.