Apple Introduces Redesigned Mac Pro, Sans Disc Drive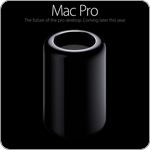 On June 10th, Apple introduced an all-new Mac Pro desktop at the WorldWide Developer Conference event in San Francsico. Not only is it a major hardware change for the Mac Pro, it is a new approach to the idea of a desktop computer altogether. One notable feature of the forthcoming machine is its lack of an optical disc drive.
Out with the Old, In with the New
The current generation of Mac Pro comes in a traditional tower configuration, similar to a PC. It is a large box that sits under your desk and contains modular components like a power supply, main board (or "logic board" in Apple-speak), video card, and disk drives. The tower is made of aluminum rather than plastic, but it is basically a fancier and more stylish version of a PC tower.
The upcoming Mac Pro will be entirely different. It is shaped like a cylinder – 9.9 inches tall and 6.6 inches in diameter. It looks a bit like one of those compact subwoofers that people install in tight spaces, such as behind the seat of a small pickup truck.
The old Mac Pro came with a SuperDrive – Apple's term for a CD/DVD burner drive. The new one does not have an optical drive at all, which I feel is a huge mistake. Allow me to explain why.
Built for Creative Professionals
What makes the Mac Pro different from the iPad and the iMac? The Mac Pro contains Apple's most powerful hardware. It is the top of the line machine, targeted towards creative professionals such as graphic designers, video editors, recording engineers, writers, and artists. These people expect more from a computer than just browsing the web and email. They use it as a tool to edit high-definition videos, do multi-track audio recordings, and create high resolution images and other creative works.
Creative professionals rely on software such as ProTools or Adobe Creative Suite to do their work – software that installs from multiple DVD discs. How are they going to install their essential programs without a disc drive?
Furthermore, many of these occupations rely on producing a digital product. Whether it's an independent film, a wedding DVD or a full mastered studio album, Mac Pro users will need a way to record their finished files to a disc.
Optical Storage vs. iCloud
But what about iCloud, Apple's cloud-based online file storage service? Will this "hard drive in the sky" serve as a replacement for dye-based CD-R and DVD-R discs? Let's examine the facts.
iCloud comes with 5GB of free storage and the option to buy an additional 10, 20, or 50GB per year. So for $100, you can have 55GB of online file storage for one year. That's more than enough for an average user to back up their photos and songs, but creative professionals may need more space.
On the other hand, a DVD burner offers virtually limitless storage, depending on how many discs you purchase. A 100-pack of Philips DVD-R discs from CDROM2GO will run you about $29 plus shipping. That gives you a total of 470 gigabytes of space at a cost per gigabyte that is substantially lower than using iCloud.
| | | |
| --- | --- | --- |
| | Apple iCloud | DVD Burner |
| Storage Space | 55 GB | 470 GB (100x 4.7GB Discs) |
| Cost | $100/year | $29/pack |
| Cost per Gigabyte | $0.55/GB | $0.06/GB |
While iCloud is a good idea, is not always a viable option for storing and retrieving files because it requires Internet access. If you are traveling or live in a rural/remote area, you may find it frustrating to back up large files such as HD videos on a poor connection. Burning a disc works whether you have an Internet connection or not.
Closing Thoughts
I think that not including a DVD writer in the new Mac Pro is a serious oversight on Apple's part. The company has already removed disc drives from its other products like the Mac Mini and the MacBook Air, which is fine because those products are not targeted towards "power users." The creative professionals who use the Mac Pro need to install Adobe Creative Suite, create movies, music, and digital layouts and art will need a higher capacity storage medium to back up their project files and final products.
Compared to a stack of blank DVDs, iCloud is limited and comes at a higher cost per gigabyte. I think that Apple did not fully consider the needs of the Mac Pro user when designing their new computer. What do you think? Chime in with your comments below.