3 Ways to Play DVD Movies in Windows 8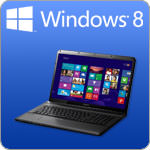 Microsoft's Windows 8 operating system has been on the market for four months now, and I have been hearing a lot of mixed reviews about it. One of the biggest complaints I've listened to from friends and family is about Windows 8 not being able to play DVD movies natively.
In response to that, I'm going to talk about three different ways that you can watch DVD movies in Windows 8.
1. Buy an Upgrade from Microsoft
This recommendation isn't likely to give users a warm, fuzzy feeling – especially if they just paid a lot of money for a new computer or a Windows 8 license. However, Microsoft offers two different "Feature Packs" you can buy which add DVD playback, among other things. For both of the following options, you need to have Windows 8 already installed and running on your computer.
The first option is "

Windows 8 Media Center Pack.

" It costs $9.99 and can be downloaded from Microsoft. The Media Center Pack allows you to play DVDs and CDs, play and record high-def TV (with a TV Tuner installed), watch photo slideshows, and use your PC as a software DVR for Internet TV content.
The second option is to

upgrade to Windows 8 Pro

. For $99, this Feature Pack adds Windows Media Center as well as BitLocker Drive Encryption, Remote Desktop Connection, and SmartScreen anti-malware protection.
2. Find a Third-Party DVD/Blu-ray Player Software
Okay, so what if you just bought a new PC and you really don't want to throw any more money at Microsoft? Or better yet, what if you wish to use your new PC to watch Blu-ray movies? Sorry pal, Media Center ain't gonna cut it.
In this case, I would recommend you look at third party programs such as:
CyberLink PowerDVD Pro 12 ($54.95)
Corel WinDVD Pro 11 ($49.99)
ArcSoft TotalMedia Theatre 6 ($99.99)
All three of these programs are compatible with Windows 8. Some of them even offer Blu-ray playback (provided that you have a Blu-ray drive connected to your computer).
3. Use VLC Media Player
If you just want to watch movies without paying more to Microsoft or buying a third-party software suite, there is still an option for you! Check out VLC Media Player – a completely free media player that works on every major operating system.
Not only is VLC free, but it will play any format you can throw at it. Those other programs are like a shotgun, incorporating a suite of programs that do all kinds of things. This program is like a laser beam, powerful and focused on the task of playing video. For more, check out the VideoLan website.
I think that Microsoft's decision to not include a basic function like playing movies was a blunder. Many people use laptops for watching movies on flights, long car trips, and other events. It is a basic functionality that we have come to expect in a new computer.
Tell us, do you watch movies on your computer? If so, how?