Pros and Cons of Starting a DVD Video Ministry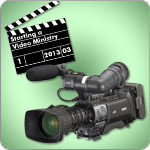 Recently, I talked about creating an audio CD duplication ministry for your church. Today, I want to talk about some of the benefits and drawbacks of starting a DVD video ministry for your church.
A DVD ministry would allow a church to record video of its services and make them available to members, usually for a small fee (to help cover production costs). The most common types of DVDs to produce are weekly services, special events, or even new member orientation/welcome kits.
Let's take a look at some of the reasons why your church might want to (or might not want to) get started producing their own original videos.
Potential Drawbacks of a DVD Video Minstry

More equipment required (compared with an Audio Ministry)
Increased technical challenges
Additional time to edit and produce discs
Higher cost of materials
Creating a video ministry is a LOT more time-intensive than an audio CD service. Instead of just a microphone and a PA system, now you've got to worry about a camera, tripod, and proper lighting. This can be a lot to wrap your head around if you're new to video production.
There are an increased number of technical challenges such as setting up and using the camcorder and other equipment, keeping the audio and video synchronized, and creating the copies. Some of these may be beyond the scope of a volunteer or even a home movie enthusiast.
Even though a DVD duplicator tower will make the copy part easier, you still need to produce a Master or Original DVD disc. Typically, this is done by transferring the video from the camcorder to the computer. However, a high-budget alternative is to use a hardware-based unit in place of a computer.
Finally, you will likely need some help from an assistant. Whether they help with the setup or with running the duplicator at the end, having a trusted friend around can make the process much easier. Their time (and the cost of the materials such as Blank DVDs) will be greater than simply running an audio service
Benefits of Producing Original DVDs

Provide a powerful visual picture to accompany your message
Higher perceived value to viewers
Illustrate what your church is all about
Attract new members
Provide a valuable service to existing members
If you're not put off by the potential difficulties of setting up a video ministry, that's great! Video is a powerful medium that can communicate your message with greater effectiveness than audio alone.
Like an audio CD, a custom-produced DVD also offers the opportunity to promote your church through awareness. If you distribute your discs in DVD cases, you have a large front and rear panel for your artwork – much bigger than any CD case! This can include the name and mission statement of your church, contact information, and a powerful photo.
A DVD ministry can be useful for more than just recording weekly services. You could also produce a welcome video for new or prospective members in the community.
Conclusion
A DVD video ministry may be just what your church needs to get a boost in its member engagement – provided that you have the time and resources to allocate to make it a success. I hope this article has been helpful in explaining some of the pros and cons of starting a DVD ministry! If you have any questions, please post a comment! Don't be shy!