The Complete Guide to Starting an Audio Ministry with CD Duplication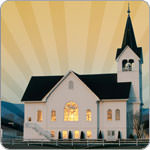 Today I want to talk about starting a CD duplication ministry and how it can benefit your church. This guide can be helpful to churches of any size, whether you have 50 people or 5,000 people.
Let's start at the beginning: what is an audio duplication ministry? In a nutshell, this means that the members of a church (they can be paid staff or volunteers) help create recordings of the weekly services, which are then made available to the rest of the congregation.
In the past this was done with cassette tapes, but today most people just use recordable CDs. They are cheaper and much more convenient.
Reasons to Start an Audio Ministry
Many churches offer ministries such as Youth Groups, Marriage Counseling, Elderly Care, and Alcoholics Anonymous. A duplication ministry is another form of outreach that can benefit your church by:
Attracting new members
Provide a valuable service to existing members
Expand your reach to a wider audience (elderly, disabled, or traveling members)
Create a welcome kit for newcomers
Whether someone wants to bring a copy of weekly services to their friends and family or they just missed a week themselves, there is real value in having copies of services available to members.
How To Set Up Your Ministry
What You Need
Public Address (PA) system – Microphone, speakers, and a mixing board. Most churches already have this
A Live Audio recorder – Can be a computer or a stand-alone CD recorder
CD/DVD Duplicator – Machine used for making high-volume copies of discs
Blank CDs – For recording the copies
Packaging – Protect your finished discs for distribution
Most churches will already have a public address (PA) system which consists of a microphone, a mixing board, and two or more speakers. You will need a way to record the sermons – you can do this with a computer or with a hardware-based recorder. Both methods will leave you with a master disc.
You will need to invest in a duplicator tower and some quality blank CDs. An Accutower  DVD/CD duplicator by US Digital Media is more affordable than you might think – an 11-drive unit is just $749! Smaller size towers are also available.
Also, you should think about some kind of packaging to distribute the CDs. Many churches operate on tight budgets, so I recommend using paper CD sleeves or plastic clamshell cases. Both of these choices are sturdy yet inexpensive.
If you want to get fancy, you can get a full color CD printer and make personalized discs with your church's information. For now, we're just going to use a simple permanent marker to label the discs.
Creating the Master CD-R Disc
Now that you have all of your materials, it's time to make the master recording. Allow yourself ample time to set up and get everything ready before the worship/service. If you are using a computer or a stand-alone audio recorder, check the levels and make sure you are getting a clear signal. Then, record the service and create a master disc. Be sure to label the disc with the date and time of the recording and keep it in a safe place.
Making Copies
Next, we are going to make copies. Operating a duplicator tower is fairly straightforward. Put the original master CD in the top drive and place the blank CDs in the remaining drives. It usually takes about 6 to 8 minutes to copy a full 80-minute disc. It can be a good idea to have a helper to put the finished discs into a case or sleeve, depending on how many discs you are producing. It's a good idea to start out with a small number of copies so you don't end up with 50 extra copies of the same service.
Tips for Success
The key to having a successful CD ministry is patience. If you are just getting started, chances are good that you will encounter some sort of problems as you develop your own process. Be prepared to deal with issues and don't give up or get discouraged!
Here are some helpful tips to follow:
Be very clear about when and where recorded sermons will be available.
Create a designated area for media: a room, a table in the lobby, a booth, a shelf in the bookstore, etc.
Make sure to announce that you are now doing CDs before and after services.
Hang up flyers in common areas such as restrooms, drinking fountains, classrooms, and bulletin boards.
If your church has a newsletter, mention it in there!
Offer the recordings at little or no cost to members.
Pitfalls to Avoid:
DON'T try to do too much at once! If you are just starting a ministry, try a small operation with CDs first. Don't get caught up in trying to launch a complex system that only you can run.
DON'T be afraid to charge a small fee for the discs to cover your costs! You don't have to make money, but you can at least break even on production supplies.
Be Careful when purchasing equipment. A small-town church probably does not need a $1,000 microphone or a deluxe automated disc printer. Still, you want to leave some room for expansion in case things take off bigger than expected. You don't want to be running at the full capacity of your operation to start with.
DON'T be afraid to ask for help! It can take a lot of time in getting the equipment set up and making copies. A friend or volunteer can make things much easier.
Where to Buy
Here is a list of some stores where you can purchase the items mentioned above:
PA System; Audio Recorder: Guitar Center, Musician's Friend, Sweetwater Music
Duplicator; Blank Media and Packaging: CDROM2GO.com.
I hope this article has been helpful in showing you how a duplication ministry can help your church, what you need to get started, and some tips to help you succeed and common problems to steer clear of. If you liked what you read, I would appreciate it if you would share this article on Facebook or Twitter. Don't be afraid to ask questions if you have any. Thanks for reading!