How To: Windows 8 Makes CD/DVD/Blu-ray Burning Easy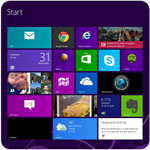 Emerging DVD markets in South America and some parts of Asia as well as Blu-ray discs becoming popular in Europe and North America are enough proof that the optical disc business is here to stay. What's more, the latest Windows operating system makes sure that optical media won't vanish in America any time soon. Disc burners are great for duplicating discs at home.
Windows 8, the latest version of Windows released for general availability in October 2012, runs on PCs with only a mouse and keyboard or those with touchscreens like tablets, and those with both. Aside from familiar and new Windows features, Windows 8 has disc-burning tools that can make the disc-writing process as easy as 1-2-3!
Follow these simple steps to make your file or audio CD:
As soon as you place your CD/DVD/Blu-ray in your PC's optical disc drive, a small window will appear at the right-most top portion of your "Start Screen". Choose on whether you want to "Burn files to disc" or "Burn an audio CD".
When ripping, organizing and writing an audio CD, use the Windows Media Player App. Making your album is as easy as dragging and dropping audio files to the right-most area with a CD-R image and beneath the "Burn" tab. Once complete, click the "Start Burn" button to create your audio CD. Images and videos can also be burned through the WMP App.
To write files and folders, simply open "File Explorer" and then drag and drop files on the disc drive image on the left side of your screen. Once done, click the "Burn Disc" button and wait for the process to complete.