Blu-ray Disc Association Investigates 4K Blu-ray Discs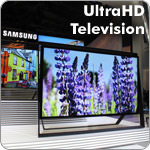 At last year's CES show, there was a lot of buzz about 3D televisions and Ultrabooks. This year the hot ticket was UltraHD television. Formerly known as 4K TVs, these sets have a resolution of 4096 x 2160 pixels – twice that of the 1080p standard.
UltraHD TVs also offer larger screen sizes – everything from 50-inch sets to 110-inch sets were on display at the show. The larger screen and improved picture quality provides a more cinematic experience to the home viewer.
4K video will consume exponentially more bandwidth than current high-definition video. Streaming and mobile technologies are currently not designed to handle such high resolution videos. So how are people going to enjoy the latest movies in UltraHD? The answer is simple: Blu-ray.
Think about it: both the physical hardware and the software to make a 4K Blu-ray disc happen already exists. The industry has Blu-ray XL discs that come in 100GB and 128GB capacities, which would be well suited to the high bandwidth needs of 4K. Many of today's connected Blu-ray players are able to update their firmware over the Internet, so consumers would not have to upgrade their existing players to take advantage of UltraHD.
All that's needed is for the Blu-ray Disc Association to come out with a new specification. They have already created the single-layer BD-R, dual layer BD-R DL, and re-enscriptable BD-RE specifications. With a new Blu-ray 4K spec, customers could buy 4K/UHD movies in a retail package, just like they currently buy replicated DVD and Blu-ray movies.
The Blu-ray Disc Association have announced that they are currently investigating a spec that would allow 4K content to be stored on Blu-ray Discs. The announcement was made following CES, but a timeline and further details have not yet been announced.
Of course, it remains to be seen if UltraHD will catch on. The 3D televisions that were so widely touted last year received a lukewarm reception from buyers, who were most likely put off by wearing special glasses and a lack of 3D content. Perhaps by this time next year, UltraHD will be forgotten as the Consumer Electronics industry makes a push for smart appliances or something else. Still, I think that UHD TV has a fighting chance provided that more manufacturers get on board.
What do you think: is UltraHD TV going to be the next big thing in home entertainment? Is Blu-ray a good choice for delivering content to the end user? Post a comment below and share your thoughts with us.