Microboards Introduces New G4 Publisher and Autoprinter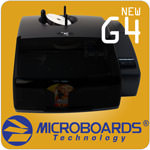 When it comes to disc publishing systems, you want to be able to strike a balance between speed and quality. A disc publishing system becomes popular when it takes this balance into account and churns out a product that can handle decent output while delivering at high volume. In line with these requirements, Microboards has introduced their new G4 Publisher, meant for mid- to high-volume disc production, and G4 Autoprinter, which offers the same great print quality without disc burning capabilities.
The Microboards G4 Publisher (G4P-1000), due to its higher output capacity, is a more suitable disc publishing systems for small businesses and other institutions that may need high-volume disc production. The publisher can produce custom CDs and DVDs on-demand in small quantities. There's also a Blu-ray version of the G4 (G4PBD-1000) for producing Blu-ray discs.
The best thing about the Microboard G4 is that it has an automated and user-friendly interface. Once you've got it set up with the appropriate settings for your job, you can start the printing and then take a break. When you come back, what you'll have is 50 discs ready to be packaged or distributed to your liking. The G4 Publisher comes with network software to handle the publishing from the get go. Also included with the unit is a SureThing label design program that lets you print high-quality images onto discs that are comparable to professional work.
The Microboards G4 Autoprinter, on the other hand, cuts production back a bit but lets you work in the comfortable confines of your office. Just like the G4 Publisher, the G4 Auto Printer has an automatic inkjet disc printer with a 50-disc capacity. The main difference between the two products is that the G4 Publisher has a built-in CD/DVD burner drive whereas the Autoprinter does not. The Auto Printer is powered by HP print technology that utilizes HP Vivera inks and a 4800-dpi resolution that can print directly on discs for a highly professional finished product.