Pioneer Introduces BDR-S08J 15x Blu-ray Disc Writer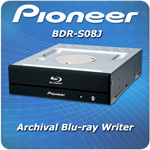 If you have not bought yourself a Blu-ray disc writer yet, then this new innovation from Pioneer may just be what you are looking for.
Pioneer Japan announced the release of a new Blu-ray disc writer just this week. Based on its predecessor the BDR-208M disc writer, The BDR-S08J is a 15x Blu-ray disc writer meant to burn data onto a variety of Blu-ray disc formats.
The BDR-S08J is capable of writing to triple- and quad-layer Blu-ray discs. Its compatibility spans six Blu-ray disc formats: BD-R, BD-R DL, BD-ROM, BD-R LTH, BD-RE, and BD-RE DL. Pioneer ensured that this disc writer is performing at high speeds. Write speeds for BD-R, for example, is at a max of 15x, and speeds for BD-R DL aren't that far behind at a max of 14x. Triple- and quad-layer BD-R discs get a regular writing speed of 6x, and triple-layer BD-RE discs, a writing speed of 2x.
Pioneer's PowerRead and PureRead3+ technologies resurface in the BDR-S08J's features. Both the technologies combined make sure that the disc writer has a better playback of scratched discs. The unit also has a quiet mode setting that allows users to play and enjoy their video and audio files in a noiseless environment. CyberLink's disc burning and playback programs are bundled with the BDR-S08J to make burning data onto Blu-ray discs a breeze. The presence of the DiXiM BD Burner 2013 beefs up the user's disc burning power by allowing them get around the security of copy-protected discs and replicating them.
Mitsubishi Chemical has also released their new dual-layer Blu-ray discs which meet archival specifications. These discs allow users to store up to 50 gigabytes of data on a single disc, and offer the peace of mind that it will last approximately 50 years or more under proper storage conditions.
Pioneer's BDR-S08J should be released sometime in the middle of the next month. The unit will retail at $292 and will be offered in three color finishes: matte white, piano black, and rubberized black. The drive is an internal SATA with a 3 GB/s interface with 4 MB cache, so it does have to be installed into a desktop or a laptop that can take it. Fortunately, Pioneer manufactured the drive using the standard form factor, which gives the drive the standard thickness of 5.25 inches. This is important to keep in mind, considering that some newer laptop models (usually UltraBooks), can't accommodate disc writers of this size (or any internal discs at all). The Blu-ray disc writer connects to the computer through the SATA-3 interface.