2013 International CES Preview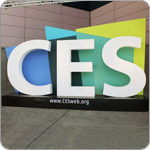 With just weeks to go until the 2013 International CES kicks off, manufacturers are already starting to leak details about what hot new products will be at the show. Here's a sneak preview of some of the bigger stories we will be following:
Samsung to Present "Complete Brand Makeover"
South Korea's pre-eminent electronics manufacturer has its hand in everything from smartphones and tablets to televisions, cameras, computers, and even home appliances. People are already buzzing about whether Samsung will be ditching their famous Blue Oval logo for a new company look.
4K Televisions Officially Named "Ultra High Definition" (UHD)
In addition to their brand makeover, Samsung is also in the news for winning a staggering 27 CEA Awards. One particular award, the Best of Innovation, was given for Samsung's new 85-inch Ultra High Definition TV which has 4 times as many pixels as a regular HDTV.
UHD is the new name adopted by the industry for 4K televisions which have a resolution of 3,840 x 2,160 pixels or higher. Expect to see lots of UHD televisions on display at CES from Sony, LG, HiSense and other big players.
Sony Debuts Full-Frame Compact Digital Camera
Sony will be showing off their new DSC-RX1 digital camera at CES 2013. This is the first compact digital camera to feature a full-frame image sensor, something that was previously only available in high-end professional cameras such as Sony's Alpha 900 or the Canon 1Ds Mark III.
Harman/Kardon 3D Blu-ray Player
One subject that we at CDROM2GO Blog are particularly interested in is Blu-ray discs. I look forward to checking out Harman/Kardon's new BDS 577, a 3D Blu-ray player and receiver that supports wireless streaming via Apple AirPlay and BlueTooth. It can even be controlled by your Apple or Android mobile device! Neat!
SpareOne Emergency Mobile Phone
In the wake of Hurricane Sandy and other natural disasters, many people realized that a weak point of today's uber-smartphones is battery life. SpareOne has the solution: an emergency mobile phone powered by a single AA battery. I expect this will be a highly publicized product at the show.
CES Show Evolution
Besides the gadgets and gizmos, the CES show itself has evolved for 2013. One notable absentee is Microsoft, which announced it will no longer be an exhibitor at CES at the end of the 2012 show. The prime booth space fomerly occupied by Microsoft – right inside the front doors of the Central Hall – has been scooped up by Dish Network and Chinese manufacturer HiSense.
With Microsoft no longer hogging the spotlight, someone else has a chance to give the keynote speech. This year the honor goes to Dr. Paul Jacobs, CEO of Qualcomm. Other keynote speakers will include Kazuhiro Tsuga of Panasonic Corporation, Lowell McAdam of Verizon, and Dr. Stephen Woo of Samsung.
Finally, parts of the 2013 CES Show will take place at the Mandalay Bay Convention Center in addition to the Venetian. A special Press Day will be held in the South Convention Center on January 7th featuring press conferences and events for the media.
We will keep you updated on these stories in the coming weeks. Be sure to check back in January for our detailed coverage of the show from the 2013 International CES!