Lite-On Vs. Transcend External DVD Writers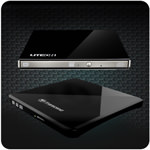 External hard drives are not the only consumer products that are undergoing renovation in design. Even external CD and DVD writers are getting major makeovers to be more compatible with the sleek and slim design of notebooks, most especially ultrabooks, of today. Following this compulsion are Lite-On and Transcend. Both companies have designed ultra-slim portable CD/DVD writers meant to complement the looks of current laptops yet still offer the performance expected out of standard optical drives.
Lite-On eUAU108
Lite-On's entry for the "world's slimmest and lightest external DVD writer" is the eUAU108. Measuring 13.2 mm thick, the eUAU108 does, in fact, hold that title – for the meantime. And with its simple lines and gloss finish, it should appeal to the aesthetics of consumers. Lite-On's portable external DVD writer has 250 GB worth of storage memory, can handle 8.5 GB dual-layer recordable DVDs. The unit also comes with a built-in USB cable that powers it through a USB port connection, so there's no need for an additional power adapter. The drive can play and record common DVD and CD formats. To ensure that the unit constantly produces high-quality disc burns, Lite-On incorporated its SMART Burn technology. For easy music, photo, and video playback, the company included its Link2TV technology. There's no list price for the writer, but a release sometime this month should yield an estimate soon enough.
Transcend Slim
Transcend's entry is its Slim CD/DVD Writer. 13.9 mm thick, it's only .7 mm thicker than Lite-On's eUAU108. Just like the eUAU108, it's meant to be paired with ultrabooks, which don't often come equipped with a built-in disc drive. The unit is bus-powered and can burn a variety of formats; it can also compile and arrange media content for a dose of user-friendliness. Transcend's portable CD/DVD writer comes with a full version of CyberLink's Power2Go media writing program and a trial of CyberLink's MediaShow. The unit also offers widespread platform compatibility; it's compatible with Windows 7 and supports Windows Vista, Windows XP, and Mac OS. The drive retails at $59 and comes covered by Transcend's two-year warranty.
Winner
Both CD/DVD writers have a lot of similarities. Both burn DVDs at a max rate of 8x and offer high-quality writing software and technology to ensure quality. Most importantly, both writers conform to the portability and sleekness expectations consumers are expecting to pair with other gadgets. Lite-On's eUAU108, though, has a bit of an edge, being the slimmer and more versatile of the two.