The Easiest Ways to Convert VHS to DVD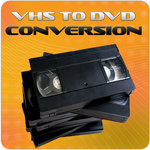 Though it has been ages since we last used VHS (Video Home System) to watch a movie or a snippet of a family get-together, VHS has our precious memories still stored in VHS tapes. How about converting these memories into DVDs to make them alive again and to make them last longer? It certainly makes sense as this provides you an opportunity to make the content on VHS easily accessible. Here are some of the ways available today to convert VHS tapes to DVDs.
Methods of Converting VHS to DVD
With the use of Analog to Digital converter, the content of the VHS can be converted in to a computer video converting it further in to a common MPEG-2 format. With this, the content can be used to author a DVD. Though it is a simpler method, it is certainly a time consuming affair.
Video capturing using computers to get the video convertible I to MPEG-2 format and then burning a DVD is another viable option. If the original tape of VHS is ready to use without editing, then this is possibly the small and less time-consuming way.
Connection of VHS tape recorder to a standalone DVD recorder is perhaps the best available method. This is a real time transfer of the data and makes it possible to edit, adjust, and improve picture quality on DVD.
Tips for better and clearer DVD quality:
Clean and clear VHS tapes are necessary to make it a better quality DVD. Residues of dust can result into poor quality picture.
Sharpness control of the VHS recorder should be turned off to ensure lesser noise and clearer picture.
Higher and clear quality of MPEG-2 format is an essential feature, as it will result into a loss of quality free conversion.
Audio compression is another key requirement as it makes more space available on DVD. Dolby Digital AC3 audio compression is an excellent choice to look for.
No matter which method you want from the methods mentioned above, it is necessary to follow the specified tips to have a better quality conversion from VHS to DVDs.
Once you have converted your VHS memories onto DVD, use a DVD burner to duplicate your discs and share with your family and friends. These often forgotten tapes can be great gifts for friends and family during the holidays or get-together.