Sony Blu-ray Disc Players to Stream from the Cloud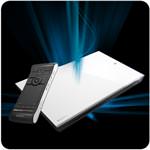 Blu-ray disc players have been around for more than 6 years and in such an arguably short period of time, they have evolved for the better. They used to be simple and expensive, and they only played discs–which is what they were basically manufactured for and expected to do. Even Blu-ray discs were just as simple. Yet six years later, these discs now come with DVD and digital copies, and options for running applications that link up content to a second screen. And the players – well they now provide (way) better physical and streaming video capabilities.
In a roundtable meeting earlier this month, Andy Parsons, SVP for corporate communications of Pioneer Electronics and chairman of Blu-ray Disc Associations (BDA); Rich Marty, VP for emerging platform development and marketing of Sony Pictures Home Entertainment; and Paul Erickson, a senior analyst at IMS Research, sat down to discuss their views on Blu-ray's current performance in the market, plans for expanding into the audio industry, and possibly upgrading specs to provide the best viewing experience for consumers worldwide.
Blu-ray discs players today now include a hefty number of streaming services as well as various options for 3D. This comes perfectly in time as more and more people now demand players capable of watching video-on-demand through services such as UltraViolet and Netflix.
Marty said the industry is continuously improving looking for ways to improve users' Ultraviolet experience. Ultraviolet, a relatively new media service, allows for viewing movies in digital format on as many devices as possible. But it's best played on Blu-ray players, where consumers can expect unprecedented high quality, high definition picture and sound.
And this unparalleled quality goes the same for audios. When asked if the industry has plans for developing Blu-ray audio releases, Marty said that no other format can play music and concert releases as good as Blu-ray, and Sony Music has already released some of its titles in Blue-ray format.
Considering the popularity of digital media, could Blu-ray be the last physical format to ever be available in the market?  Parsons said the evolution of physical formats is based on new applications that come up and demand for them. For instance, Blu-ray is the perfect format for HDTV, and when 4k formats emerge, Blu-ray still has the capacity to handle that. In a nutshell, what he meant was that if something else comes up that Blu-ray couldn't handle, and some other physical forms could, then there may be a new physical format to come out.
And how does it look for the near future, the summer perhaps? BDA is all smiles as the holiday season looks promising for the industry. This is because Blu-ray players are well priced for its competition, given its specs and capabilities.
Currently, Blu-ray shares the limelight with DVD at a 50-50 share in the market (and current penetration of 1/3 of the US household). But Marty is hopeful that this percentage will go higher in favor of Blue-ray as it thrusts further into the optical market. In fact, they see no signs that Blu-ray is slowing down at all, looking positive that this format will continue to prosper for more years, probably decades, to come.