The Pioneer BDP-150 3D Blu-ray Player Features USB Support, Smartphone Controls, LOTS of Streaming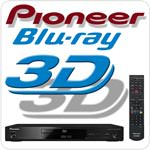 What's the use of your 3D TV if you do not have a 3D Blu-ray player to go with it? The huge price tag doesn't have to stop you now because Pioneer has now come up with an excellent 3D Blu-ray player called the Pioneer BDP-150 for $179. This is truly a remarkable device as playing Blu-ray discs is actually a very small part of what the BDP-150 is capable of. From streaming web content, to playing downloaded movies and photos from a USB drive, this player is much more than just a disc playback machine – it is the future of networked home theater devices.
Apart from playing high-definition movies from Blu-ray in 1080p resolution, the BDP-150 not only supports DVD, but also improves the non-HD resolution from the DVD with its Streamer Smooth Link capability. The BD-150 is Wi-Fi enabled and you can connect your computer via Wi-Fi or the Ethernet port to control its streaming. The player has built-in support for Pandora, Netflix and Youtube which allows you to stream media from these portals wirelessly. Controlling the BD-150 is a breeze since you don't even need the remote control that comes with the player. You can control the player's app from your iPad, iPhone or Android device. The device comes with a USB input for peripheral devices and an HDMI output for connecting to HD screens.
The BDP-150 supports advanced audio formats like Dolby Digital Plus, Dolby TrueHD and DTS-HD Master Audio. It also supports all the popular video formats such as FLAC, DivX+HD, 3GP, FLV or Blu-ray, DVD, SACD and AVCHD from the main unit. The only drawback with the Pioneer BD-150 is that the Wi-Fi feature is built in and you will have to buy the Wi-Fi Network Adapter additionally to enjoy the wireless capabilities of the player. Without the wireless features, the player is really just another Blu-ray player, and since the optional wireless adapter costs around $150, which is the cost of the player itself, the bundle might not make a good deal for customers.
Is this the home entertainment system you have been longing for? What other features do you need in your disc player?