Blu-ray vs. iTunes 1080p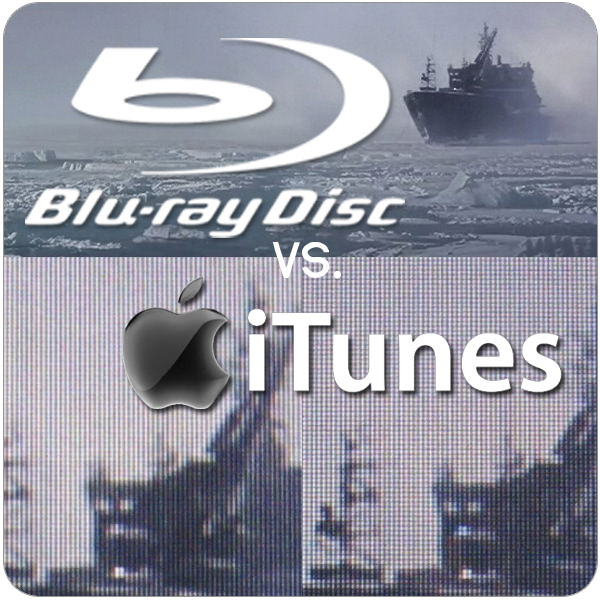 iTunes, having come out with the improved 1080p, has made a great improvement over the 720p format in quality but also an increase in file size. The REAL comparison then is between the new iTunes 1080p and Blu-ray disc quality. Blu-ray has been the picture quality champion since its release but now the portability of a high-definition download has made it necessary to assess the merits of both formats and decide whether iTunes 1080p is the better option or Blu-ray.
Let us peek at a comparison between the features of Blu-ray and iTunes with 1080p resolution. The comparison between the two formats follows below.

Blu-ray Merits:
Picture clarity, color reproduction on the screen, ultra fast response of the frames and above all high definition aspect ratio are some of the features that contribute to the benefits of Blu-ray technology. However, the size of the files it has produced is rather high and puts it on the list of minor disadvantages. In addition, the audio quality provided with the support of Blu-ray is highly rated and is worth the hype.
iTunes with 1080p Resolution Merits:
It is clear that iTunes 1080p has generated intense competition for the Blu-ray monopoly. The new format has emerged as a serious threat to the Blu-ray technology as it has almost all the features along with the quality with a smaller file size – not to mention portability. Apple, which has a tremendous reputation in the digital media market today, not only lends it credence with its famous logo but the strength of the iTunes store. iTunes 1080p is inaugurated with the launch of Apple TV and now is regarded as one of the best available options in the field of high definition images.
Final Verdict
In a comparison by ArsTechnica, they found that in most cases the 1080p version was nearly as good as the Blu-ray version. However, there were noticeably lacking areas. Specifically, in highlights and dark areas, the iTunes version shows banding and lacks the depth of clarity. The overall quality still lies with the optical drive version offered by Blu-ray.
Though it is widely believed that iTunes 1080p has provided a service on par with the  picture quality of Blu-ray, audio quality is an area where Blu-ray emerges as the winner! DTS-HD Audio of Blu-ray, one of its key features, is far superior in quality and performance than 5.1 Dolby Digital of iTunes 1080p. Hence, it can be safely concluded that iTunes 1080p has a ways to go before it can beat Blu-ray.
Team Blu-ray is the winner here. Besides getting a hard copy of your favorite film you can have and use anywhere, you get longer lasting quality and higher value.