Blu-Ray Disc Box Set Fall 2012 Release Schedule: Marvel Avengers, Indiana Jones, James Bond and MORE!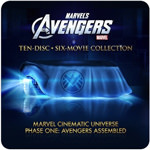 Blu-ray offers a number of advantages over other formats, not the least of which is the excuse to release favorite films and shows ALL over again. Below I have listed some of the best that are coming out this fall and they are incredible! A 20-disc set of 50 years of James Bond!? A 10-disc Marvels Avengers box set!? The Blu-ray industry is pulling all the stops!
We listed 7 reasons for switching to Blu-ray in a previous post. One of the great reasons is because of the Home Theater technology. It is easier to have a high quality HD set up in your living room with flat screen TVs, blu-ray players, streaming devices all hooked up. Blu-ray takes a good experience and makes it great, optimizing the picture quality that HDTV can provide.
Upcoming Blu-ray New Releases
There is something for everybody in the new slate of Blu-ray boxed set collections coming this fall 2012. As the popularity of Blu-ray increases and gains market share – particularly in other countries and markets – we all benefit from the re-release of our favorite films and shows. Whether we have watched them constantly since they were originally released on VHS or have forgotten about them after we fell in love with them in the movie theater, it is great to have them back and better than ever.
Below is a selection of my favorites coming out this fall. Don't see the ones you are waiting for? Let us know your upcoming favorites in the comments below.
Release Dates by Month
July