Four Fun CD Case Crafts and Activities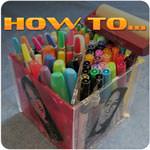 You may have an over abundance of empty CD cases laying around, whether you lost or got rid of CDs. I store my Discs in a large binder which is why I have extra cases. CD cases, often referred to as jewel cases, can be used in creative ways, some of which we have posted here and here. Why not use them to be productive and make a craft? Reduce your waste, save yourself money  and reuse the disc cases that are lying around!
These are great fun, so send in a picture of what you have made. Write in the comments any other ideas you have run into. Take a look at these CD case crafts and then take some time, make a craft, and then show it off!
Growing up, I only saw my grandparents on special occasions like holidays or other big family events. When we came, my mom made sure we had a recent picture of ourselves to share with grandma glued into a personally made frame magnet. It was great to get a big wet kiss then put my picture up on her fridge. This little project doesn't take much work, but the results are what count! Make sure you scroll down the page on this link.
2. Brag Book Photo Album CD Case Craft
My mom loves to carry around pictures of her kids and grandkids, this gift is perfect for her because she can keep adding to it, it fits right in her purse and the next time she is caught in a long line at the grocery store, she can pull out the photos and brag about her great kids.
As a kid I collected anything, from rocks and pogs to trading cards and pencils. This craft is a perfect way to show a great little kid their collection is valuable – even if it's just to them. Perfect for sports or game trading cards, make a series and have easy art to hang on the child's room wall that won't be a huge disappointment it accidently breaks.
This is a great way to get organized and focus on a fun and creative activity during a rainy day in – or way too hot day to go outside. There are hundreds of ways to modify this simple box, but it's nice to sometimes have a straight forward, simple project.
Whatever you do and however it turns out, make sure to have fun doing it! Let us know how it goes and what other CD case projects you have done in the comments below.