How-To: Desk-Top Terrarium with a DVD/CD Spindle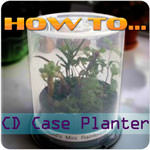 My office is a bit barren of life – green plant life that is. While I would love to sit in some solarium all day, that isn't an option where I work. The other difficulty with trying to keep a green space in the office is the lack of natural light. That's why this Desktop Terrarium is a great way to take the oh-so-common CD/DVD cakebox (sometimes called a spindle case), and use it to bring much needed plant life to your very own desk. Besides, having a plant to watch grow maybe just the thing to keep you motivated!
It is simple and works! This project is great because it is reusing something rather than throwing it away and adds a cool conversation piece to your desk. You can transplant any small plant into the case.
Here is how to make it:
Find an unused CD spindle case — the bigger the better.
Cut off the central column. If it leaves a hole, make sure you seal it up.
Drill a few holes in the top of the lid for ventilation.
Find a small pot that will fit easily in the base.
Add compost, seeds and water.
If you don't have a CD cake box, you can find one or many at CDROM2GO.com. Tell me how it worked for you!