Primera Introduces Bravo 4051 50-Disc Publisher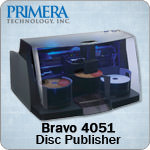 In November of 2011, we wrote that Primera Technology was working on a new disc publisher that would be available this year. The machine would feature the same high-speed printer found in the Bravo 4100 series but with a smaller disc capacity. This new machine is the long-awaited replacement to Primera's retired Bravo II CD/DVD publisher.
Now, we are glad to report that the Bravo 4051 50-disc publisher has arrived! I think that this machine is a great all-around disc publisher, and I'm going to tell you why.
The Primera 4051 publisher is an ideal choice for any business or organization that needs to custom print small runs of CD, DVD, or Blu-ray discs. It has a 4-cartridge CMYK printer which gives it much better quality prints than the single-cartridge Bravo SE printer. Furthermore, it uses the same print engine found in the other Bravo 4100 series machines which means you get the same lightning-quick 6-second prints! This is another big advantage over the SE. It's worth noting that the Bravo SE publisher does cost less than the 4051, but you are getting a whole lot more for your money.
In comparing the Bravo 4051 to Primera's other machines, we have the Bravo 4102 at the opposite end of the spectrum. The 4102 publisher is a serious machine with a 100-disc capacity – twice as much as the new Bravo 4051! That machine also comes with two DVD/CD or Blu-ray recorders, whereas the Bravo 4051 is only available with a single burner drive. While the larger 4102 publisher offers greater throughput, it has a much higher price.
Therefore, the Bravo 4051 is the machine to get if you want good print quality and capacity on a sensible budget. You can choose the Bravo 4051 CD/DVD publisher or the Bravo 4051 Blu-ray publisher (which records regular CDs/DVDs as well).
One good thing about Primera equipment is that it's compatible with both Windows and Mac OS environments. Whether you use the machine at work, at church, or somewhere else, you can rest assured that it will work with their computer, no matter which type they have. The company's PTPublisher software allows users to design their artwork and burn their CD or DVD files all from one convenient program.
The Bravo 4051 is just $1,875 for the CD/DVD version and $2,695 for the Blu-ray version. That may seem steep, but it's an investment in your business that can really pay off. Think of it this way: if your business could automatically produce copies of welcome videos, product demonstrations, CD-ROM support documents, audio lectures, and more projects – complete with disc artwork – how much more free time would you have to work on other projects? How much value would this add to your current products or customers?
You can purchase the new Primera Bravo 4051 publishers from a factory-authorized reseller such as CDROM2GO.com.