Six Creative CD Jewel Case Craft Ideas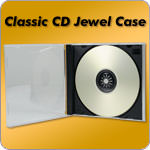 We've already proven that the CD spindle can be repurposed for countless uses.  Our creative juices are flowing again and thanks to the craft prowess of the online community, we've discovered that the CD jewel case is another great foundation for DIY projects.  Most likely you've racked up a pretty large collection over the past two decades to provide you with a start.  However, if you'd like to keep them for the storage of your discs, we have the CD jewel cases you'll need to channel your inner Martha Stewart.  Choose from a variety of projects—from ones that'll keep kids entertained to those that serve some serious function.
1.  Jewel Case Kids' Game Maze
Create a miniature labyrinth with little cost and effort.  All you need is a blank jewel case, Bendaroos, and a little craft clay.  The waxy Bendaroos will stick to the surface of the case and you can make a mini pinball from the clay.
Since jewel cases are the perfect size to sit in a workspace, you can print out 12 paper insert that can be removed or shuffled as the months go by.  Creativity has no limit since you can print out your own design to complement the dates.  Open and prop up backwards at a 45 degree angle for an instant jewel case calendar.
When your hands are in the trenches of a messy recipe, it's handy to be able to glance at your recipe without having to touch it or read it from an awkward angle.  Simply glue or tape the recipe to a CD jewel case that's been propped open at a 45 degree angle.
4.   Towel Rack Decorator
When you have multiple people using one bathroom, things can get a little confusing, especially when it comes to keeping track of towels.  Add the images to the jewel cases and mount to the wall, directly below the respective hooks for instant identification and a unique photo gallery.
5.  Miniature CD Case Terrarium
Jewel cases can make beautiful home décor and this project is proof. Add art inserts into your 4 main trays that you think will look good against the glow of a candle. Glue the case trays (5 total) into a cube shape and decorate the open lip with a ribbon.  A battery operated candle or tea light is suggested for safety measures.
Stay tuned for another installment of creative CD jewel case uses coming soon!