Another Five Creative CD Jewel Case Craft Ideas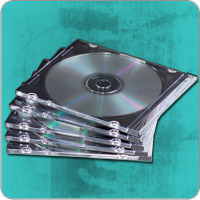 Just in case we didn't satisfy your crafty curiosity with six creative jewel case ideas, we're dazzling you with five more projects.  After all, it seems silly to have packaging meant for art display go to waste in the back of a storage closet full of CDs (by the way, we have an entirely different CD recycling article for you to browse).  A new purpose for jewel cases also helps remind us what has always made their design so great.
Who knew that CD jewel cases could look like innovative pieces of fine art for the home at a fraction of the cost?  Use anywhere from 6 to 20 jewel cases (or more if you're really ambitious). You can choose a bunch of photos that complement each other or opt for a larger image that's segmented (refer to this link for detailed instructions on the latter).  Hang with Velcro tape or mounting strips.
This puts a whole new spin on displaying photos.  Gather 5 jewel cases, 10 photos, 10 old CDs, a CD spindle as well as necessary crafting supplies like tape, glue, scissors and decorating materials.  Once you arrange the pictures and decorate your cases, it's just a matter of tape the cases together, fanning them and sliding the center on the spindle.
3.  CD Jewel Case Coaster
This is a simple, no-brainer craft project.  What makes the jewel case such a great foundation for a DIY coaster is that it can maintain a super flat surface while keeping the art and decorative add-ons within.  The result is that your deliciously cold and hot drinks have a steady, stylish tray for resting.
A new twist on a classroom standby.  The clear tray and sturdy construction make it perfect to prop up and display.  The materials you can use to create a scene are endless—cardboard, newspaper, dried beans or pasta, rhinestones, fabric—the list goes on.  You can affix these diorama materials with double sided tape or glue.
5.  Jewel Case Birdhouse
This DIY craft is like a gingerbread house taken to a whole new level.  Adding colored jewel cases among the building blocks provides an almost stained glass, mosaic effect that beats out a clear case rendition.  All you need is a large stack of cases, a little construction know-how and a hot glue gun.  For an even more elaborate jewel case birdhouse, cover the roof in fabric or add paper inserts to the trays.  It will add some much needed shade for the feathered residents on sunny days.
Have you embarked on any cool craft projects with jewel cases before?  We'd love to hear about them!