Handmade Mix CDs Still Make Perfect Valentine's Gift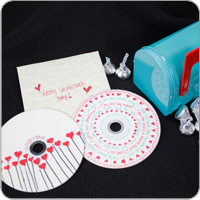 Some of you may be too young to have remembered or experienced this romantic gesture, but there was a time pre-2008 when receiving a mix cassette tape or mix CD was a big deal. They were a great way to express feelings that words could not and share special song tracks that had a unique place at the heart of a relationship. This Valentine's Day, old is new again for these heartfelt personalized gifts. As experts at disc making, we thought we'd help share some fun DIY ideas including some of our own V-day craftiness!
Once you've compiled the perfect soundtrack of specially picked songs on a blank CD-R, it's time to start decorating. If you don't have a disc printer to make a perfect background, it's not a big deal. While typically we love the photo finish that this kind of equipment can give for your professional project, a Valentine's mix CD is one of the exceptions where homemade is so much better.
Fortunately, the matte surface of silver and white inkjet printable CDs is the perfect, compatible backdrop for drawing and doodling. Because the surface can withstand printer ink, taking your favorite color Sharpies to the top of it will have zero negative impact on the integrity of the disc.

As you can see below, we've decorated some examples using permanent marker. We've demonstrated just a few of the million ways you can use romantic little hearts. There's even one disc where the Sharpie pattern alternates between x's and o's and the lyrics to special love songs.

The way you package your custom CD is equally important. If you have a clear clamshell CD case, it's an ideal way to protect your disc while letting your personalized artwork shine through. For a more homemade approach or for those of you who leave it to the last minute, you can make a simple CD envelope out of whatever kind of paper you have around—be it printer, cardboard or construction. From there, you can draw, bedazzle or add stickers to the envelope. If anyone has trouble folding a CD envelope from scratch, this site is a great step-by-step resource.


When was the last time you made a mix CD for someone? Tell us your romantic tale below!
Also, don't forget to follow us on Twitter and Facebook for all the latest news and updates!