Plextor's PlexEasy Offers PC-Free Burning of CDs, DVDs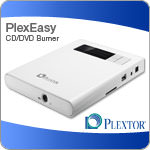 When I think of gadgets, I think of devices that are compact, solve a problem, and are stylish or cool looking. If that is the case, then Plextor's PlexEasy is one sweet gadget. First seen at CES 2012 last month, the PlexEasy is expected to launch in the first quarter of 2012. What is it about this glossy white gadget that has us so excited? Allow me to explain.
Plextor has created a device that makes transferring and backing up information easy. No, I mean really super easy. In fact, there are only three steps to using it. First, connect a device. Then insert a blank CD-R or DVD-R disc. Are you still with me? Good. Now, press a button to create a backup. It really doesn't get any easier than that!
So what kind of devices can you connect to the PlexEasy? Just about anything! Digital camera? It supports point-and-shoot cameras and digital SLR cameras over Picture-to-Picture (PTP). What about MP3 players and flash drives? Check. Desktop and laptop computers? Check. Smartphones and tablets? You're in luck, because iOS, Android, and BlackBerry are all supported.
Once you have connected a device, you can use the PlexEasy to transfer your device's data to a blank DVD-R or CD-R disc. Here are just a few of the ways in which you can use the PlexEasy:
Backup digital pictures and video from an SD card to a DVD-R disc
Transfer a presentation from a USB drive to a CD-R disc
Save downloaded photos from a tablet computer or smartphone to a DVD-R disc
Copy files from a USB hard drive to a DVD-R disc
Burn files from your desktop, laptop, or netbook computer to a Disc
Use it as a DVD-ROM drive for a laptop or netbook
One of the more interesting features is that according to the manufacturer, the PlexEasy can also be used as a 1-to-1 DVD/CD duplicator. To do this, the user must connect a USB flash drive to serve as a memory buffer during the copy. This means you will need a USB memory stick larger than the size of your original source disc.
Plextor's drive seems to pack plenty of features into such a small device, but does it have any drawbacks? The device's 8X DVD burner is not as speedy as some other external burner drives, but switching to a different external burner drive means losing the PC-free backup features, which for many customers will be the primary reason for buying this gadget.
When connected to a computer, the PlexEasy draws its power over its USB 2.0 connection. When used as a standalone unit, an included AC adapter allows it to be plugged directly into a wall outlet for continuous power.
Plextor has not yet announced a US release date or price for the PlexEasy. Currently, the product is only available in Europe, where it retails for around 109 Euro ($145 USD).
If you're looking for a machine that can copy information from USB flash drives to discs in high volumes, be sure to check out our Accutower Multimedia duplicators. They support copying from CD and DVD discs and USB flash drives (or SD cards in USB readers) and can record to 3 or 7 CD/DVD discs at a time. Please check out our previous blog on the Accutower All-In-One Multimedia Duplicator for more information.