Pioneer Introduces BDR-PR1 Archival Blu-ray Drive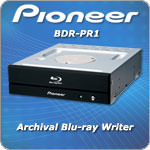 Less than a month after Pioneer announced two new Blu-ray writers for the consumer market, they are back with another new Blu ray burner – though this one is aimed at archival users.
While an average computer user has little use for archival products, the need for archival storage has been growing steadily during the past decade as a result of the increasingly digital nature of our lives. Corporate IT departments are required to maintain emails and tax records, police departments have evidence to keep, and libraries and research organizations have important data to store and catalog.
Up until now, these organizations could do nothing but pair their existing DVD/CD writer with some premium quality archival CD-R or archival DVD-R media and hope for the best. Archival media from companies such as MAM-A is made with higher quality dye and has been shown to last about 100 years or more in laboratory testing.
In response to the increasing demand for long-term storage, Pioneer has introduced a new Blu-ray burner drive aimed squarely at archival users. The BDR-PR1 includes several professional-grade features not found in other optical disc drives. These include:
Higher quality optical pickups than those found in consumer-grade drives
4X CLV speed limit when recording to BD-R discs
The drive is compatible with new Archival Blu-ray discs from Mitsubishi Chemical, also just announced
The drive is three times better sealed against environmental dust and debris than a traditional drive
Finally, the drive also includes special software for measuring the error rate during the burn. This allows users to ensure that their data was recorded with the fewest number of errors possible.
Alongside the release of this drive, Mitsubishi Chemical has also announced the release of their new dual-layer Blu-ray discs which meet archival specifications. These discs will allow users to store up to 50 gigabytes of data on a single disc, and have the peace of mind that it will last approximately 50 years or more under proper storage conditions.
Because of the specialty nature of the product and the higher-than-normal build quality, the price is estimated to be $300-$400 per drive, according to industry news site CDRLabs.com. The drive is scheduled for release in "Late January 2012″ according to Pioneer.