Microboards Announces End-of-Life for Legacy Printers and Publishers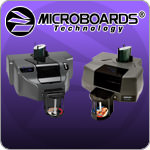 Sometimes in life, a new technology comes along and displaces an old one, leaving users no choice but to go forward. Think of the transition from cassette tapes to CDs, or from analog to digital television broadcasting. Like it or not, these technologies became the new standards for their industries. The disc printing industry is no different. As the saying goes, "Out with the old, in with the new."
Recently, Microboards Technology has announced End-of-Life support for some of their disc printers and publishers. These legacy machines have been out of production for some time now, and the company will no longer offer hardware repair services or support for these older machines.
Effective March 1, 2012, Microboards will discontinue hardware support for legacy printer/publisher products utilizing the 6122 print engine.  Microboards products affected include:
PF-1 (Print Factory-1 Disc Printer)
PF-2 (Print Factory-2 Disc Printer)
DX-1 (DX-1 Disc Publisher)
DX-2 (DX-2 Disc Publisher)
Microboards has a limited quantity of repair parts inventory available for these obsolete machines, including the HP-6122 print engine.  Please contact their Technical Support Department as soon as possible before 3/1/2012 if you interested in a final purchase of repair parts hardware for the 6122 print engine products.
If your old machine is beyond repair, you might want to consider upgrading to a newer disc printer or publisher. Microboards' current line of machines includes a sophisticated 4-color CMYK ink cartridge system for greatly improved print quality over previous models. Other features such as Blu-ray drives are also available on the Microboards G4 publisher.
To learn more, please visit the Microboards Equipment Store page at CDROM2GO, a factory-authorized reseller of Microboards products.