Epson to Release PP-50BD Blu-ray DiscProducer in Early 2012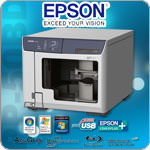 There is a buzz in the industry that Epson is preparing to round out its Discproducer product line with a new model. Expected to debut in early 2012, the new machine will support recording on single and dual-layer Blu-ray discs. If it is true, this move would give Epson a major competitive advantage in the disc publishing market.
Currently, Epson is the only major manufacturer without a Blu-ray publisher. Competitors such as Microboards and Primera have had their Blu-ray disc publishers available for years.
Epson first entered the disc publishing market in 2008 with three versions of its 100-disc DVD/CD publisher: the standard, the Network edition, and the Network edition with Security. In 2010, Epson introduced the Discproducer PP-100 Autoprinter which offered print-only functionality at a reduced price. Then in 2011, we were introduced to the 50-disc publisher which offers a smaller capacity and a single disc drive instead of two.
Now, details have emerged about the possibility of an Epson PP-50BD publisher in the works. The machine will be the same size as the DiscProducer PP-50 publisher, which sports a 50-disc capacity and is very slightly smaller than the PP-100 publisher.
We anticipate that Epson's high-resolution inkjet printer will remain unchanged from the current models. This will allow it to use the same ink cartridges and provide the same high-quality, near-silent operation we have come to love. This is the same print engine that offers an incredible 1,000 prints for each full set of ink cartridges!
Regarding the optical drive, it is speculated that the machine will feature Pioneer's BDR-PR1 archival Blu-ray burner for ultimate performance and reliability. The new machine also features a tightly sealed design to reduce contamination from dust and dirt, as well as a minimum number of moving parts for the best reliability.
The DiscProducer is expected to go on sale in Japan as the PP-7050BD and in the US as the PP-50BD Blu-ray Publisher. Official pricing has not been announced, but early estimates put the suggested retail price at around 3,629 euros (approximately $4,775 USD). We will keep you updated as details as more details about the machine become available.
In the meantime, you can shop for Discproducer printers, publishers, and other Epson machines in the Epson Equipment Store from CDROM2GO.