Epson Releases Total Disc Maker v4.01 Software Update for DiscProducer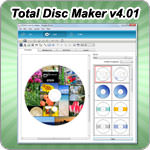 Attention DiscProducer owners! A new verion of Total Disc Maker software has been released for all Epson DiscProducer printers and publishers.
The latest version is v4.01 and was released on December 27, 2011. This release includes compatibility and drivers for new machines as well as some compatibility and bug fixes.
Changes from version 3.51 are as follows:
Added support for new PP-50BD Blu-ray Publisher
Software now supports writing to BD-R/BD-R DL media (PP-50BD Only). The supported formats are: UDF 2.60/UDF 1.02/ISO9660. You can create a BDMV video disc.
Software now records internal disk drive write time and the number of tray open/close actions (PP-50BD Only)
Total Disc Monitor has a new progress bar which shows the drive status when processing and writing.
Total Disc Monitor used to show the time remaining for each job in progress, now shows expected processing time remaining.
When burning data CDs, Total Disc Maker now adds support for post-gap writing.
This software update supports all models including:
PP-100N Network Publisher
PP-100NS Network Publisher with Security
PP-100AP Autoprinter
PP-50BD Blu-ray Publisher
At this time, Epson Total Disc Maker is only available for PC. Support for Apple Mac computers has not been announced. Total Disc Maker 4.01 is compatible with the following operating systems:
Windows XP (32bit, SP3 or later) – Home Edition/Professional
Windows Vista (32bit/64bit, SP2 or later) – Home Basic/Home Premium/Business/Enterprise/Ultimate
Windows 7 (32bit/64bit, SP1 or later) – Home Premium/Professional/Enterprise/Ultimate
Windows Server 2003 (32bit SP2 or later) – Standard/Enterprise
Windows Server 2003 R2 (32bit SP2 or later) – Standard/Enterprise
Windows Server 2008 (32bit/64bit SP2 or later) – Standard/Enterprise
Windows Server 2008 R2 (64bit) – Standard/Enterprise
To get the latest version, please visit Epson's official DiscProducer support site at: www.epsonexpert.com. You will need to register an account in order to log in and download the software. However, registration is free and it just takes a second.
Don't have a DiscProducer yet? It's easy to purchase one from CDROM2GO, a factory-authorized reseller of Epson products. Jump over to The Epson Equipment Store at CDROM2GO to view detailed product information, photos, videos, and pricing.