Epson Introduces Artisan 730 CD/DVD Printer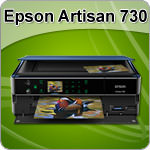 In Japan, the word kaizen refers to the practice of continuous improvement through small, gradual changes. Rather than redesigning a product from the ground up, it is improved until it becomes as near-perfect as possible. This is the philosophy behind the Swiss Army Knife, the Porsche 911, and yes, the Epson Artisan printer.
The Artisan 730 inkjet printer is the latest and greatest model from Epson, and the fourth member of the Artisan family to come out since 2009. On average, a new model of Artisan printer comes out approximately every six to eight months! That's even faster than Apple, who is infamous for their remarkably short 1-year product life cycles.
So what makes the Artisan 730 different from the Artisan 725? Honestly, not a whole lot. The changes to the 730 are pretty minimal. Under the hood, a revised print engine offers slightly faster print and copy speeds. The 730 is rated at 9.6 pages per minute in color and 9.1 pages per minute in black, while the 725 clocked in at 9.5 and 9.0 pages per minute, respectively. While a higher print speed sounds better, the increase is so minor that customers will not be able to notice.
A major feature introduced in the previous model was the ability to print from mobile devices such as smartphones and tablet computers. Now, Epson has taken it a step further by adding support for printing from cloud-based storage services including Apple AirPrint™ and Google Cloud Print™. This allows users to print hard copies of documents and photos no matter where they are stored.
Beyond that, the differences to the Epson Artisan 730 are mostly cosmetic. There is a new plastic door on the front of the machine that covers up the USB port and memory card reader when not in use, and the scanner lid features a textured surface.
Aside from those small changes, this machine is still the same great Artisan that we know and love. It still uses Claria Hi-Definition inks for amazing color printing. It still offers a pop-out tray for use as an inkjet CD/DVD printer. It still scans, copies, prints photos in under 10 seconds. It is an astonishing amount of technology packed into one device.
You can purchase the new Epson Artisan 730 inkjet printer in the Epson Store over at CDROM2GO. They offer the machine (which includes a full set of ink cartridges) and the Producer Pack, which offers the machine and TWO full sets of ink cartridges. This really is the most refined Artisan yet. We can't wait to see what new features and changes will appear in the next model!