2012 CES Las Vegas Preview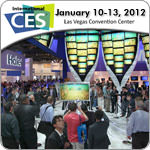 It's almost time once again for the Consumer Electronics Show in Las Vegas, Nevada! This annual trade show is where the world's electronics manufacturers gather to show off their latest gadgets and gizmos as well as pre-production and concept products.
CDROM2GO Blog was in attendance for the 2011 show, where we saw all kinds of amazing things happening in the optical storage and entertainment world. We wrote about web-enabled Blu-ray players, 3D-capable Blu-ray players and televisions, and Blu-ray XL discs from Verbatim.
The 2011 CES Show will be remembered as the "Year of the Tablet," since over 100 different models of tablet computers from various manufacturers were announced or introduced at the show. While this year's show was great, the 2012 CES Show promises to be even more amazing.
Rise of the Ultrabook
The 2012 show is already being hailed as the "Year of the Ultrabook." An ultrabook is a special type of laptop that features an energy-efficient Intel CPU in an ultra-thin form factor (similar to a MacBook Air, but running Windows 7).
These ultra-thin, high-performance laptops feature battery life in the 3-5 hour range, hence the name "Ultrabook." Analysts are predicting that anywhere from 30 to 50 models of Ultrabooks will debut at the show. If these predictions are correct, we will be seeing a lot of these computers hitting the market sometime in 2012.
UltraViolet: The New "Play Anywhere" Format
On the home entertainment front, a major announcement from the Digital Entertainment Content Ecosystem (DECE) regarding the UltraViolet format is scheduled to take place on January 10th. You may recall that we recently wrote an article about UltraViolet, the new media format that features a packaged physical disc as well as a digital storage locker. UltraViolet went live in November and is now available on about two dozen movie titles.
Google TV + LG?
There are also rumors swirling about a new Google TV device developed by Google and electronics giant LG. And of course, there will be acres of screen real estate to gaze at in the form of laptops, cameras, and big-screen televisions.
Bigger, Brighter, and Thinner Televisions
We have learned that LG will be showing off the world's largest OLED television set, which measures an impressive 55 inches! Because OLED screens do not use a backlight, they are incredibly thin. This model will be just 5mm in depth! This provides all kinds of interesting opportunities for mounting them in unusual spaces such as motorhomes and other applications.
We may also see some new Nokia powered smartphones and rumors indicate that there may be a playable demo of the Nintendo Wii U, the next-gen gaming console that is scheduled for release sometime in 2012.
We are eagerly anticipating this year's show and will be sure to keep you updated with our findings during and after the 2012 CES show!