Rimage Producer CD/DVD Publishers Now Feature Windows 7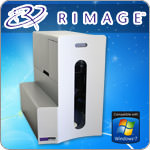 One of the great things about ordering a high-end Rimage CD/DVD publisher is that it comes with everything you need to get started. Unlike other companies which require the machine to be connected to your own desktop computer, Rimage goes a step further by including the computer as part of the machine! In the industry, this is known as an "embedded system."
Embedded systems have several advantages. First and foremost is the convenience factor. Everything you need to get started producing custom-printed CD-R and DVD discs is included right out of the box. You won't have to spend any time connecting cables or installing software, because it's already set up from the factory!
Another benefit of embedded systems is reliability. Rather than purchase a separate desktop computer just to run a disc printing machine, the manufacturer has already included one that has been thoroughly tested to work. This virtually eliminates headaches caused by compatibility issues when using a newer Rimage disc publisher with your own computer. You can count on an embedded system to run smoothly since it has been selected by the manufacturer for that specific purpose.
In the past, Rimage's line of Producer disc publishers have come preloaded with Microsoft Windows XP Professional. Now, Rimage has announced that starting in November 2011, their embedded systems will begin shipping with Microsoft Windows 7 Ultimate (64-bit). The 5410N Publisher as well as the 6100N, 7100N, and 8100N Producers with the Everest 600 printer will be affected by this change. To avoid confusion, I should mention that the 5400N publisher is available as both a client-PC version and as an embedded system.
Rimage says that the change is necessary because some of their enterprise-level customers have adopted corporate mandates that require computer networks to be entirely Windows 7 or newer. Of course, this change brings about lots of questions. I'll do my best to answer some of the biggest ones here.
So what if you order a new Rimage Producer but you would prefer to use Windows XP instead of Seven? Don't worry, Rimage will include an XP restore disc with each new machine. This guarantees compatibility with existing systems and workflows for clients who have not yet transitioned to Seven.
Rimage customers who already have a Producer machine may be able to upgrade to Windows 7. It depends on the type of motherboard found in the embedded system. Users who have a "Q45″ series motherboard are eligible for the upgrade whereas the "Q965″ series cannot be upgraded. Rimage also notes that Everest III printer systems are not eligible for a Windows 7 upgrade.
If you currently have a Rimage Producer system and your network does not require it, Rimage insists that there is no reason to upgrade from XP at this time. However, users who wish to may be able to purchase a Conversion Kit from Rimage starting in November 2011.