JVC Advanced Media Introduces Recordable Blu-ray LTH Media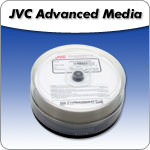 One of the biggest players in the world of optical storage is JVC Advanced Media. Their discs were sold in the US under the brand name Taiyo Yuden until 2010 when the company transitioned to its current moniker. Both Taiyo Yuden and JVC Advanced Media are known for the high quality of their recordable CD and DVD discs. Now, the company is taking the next step forward and expanding into the Blu-ray market.
Producing blank Blu-ray discs in massive quantities usually requires a big investment in new molding machines. JVC Advanced Media is taking a different approach with a technology called LTH or Low-To-High. The term refers to a manufacturing process where Blu-ray discs are made on a DVD production line that has been changed over. In this way, the company is able to produce both types of media without a significant investment in new machinery.
So how do Blu-ray LTH discs compare with regular Blu-ray recordable discs? The only major difference is cosmetic. Whereas a standard BD-R disc has a deep brown color, these discs have a golden yellow dye layer. This layer will actually change in appearance as the disc is burned, which I am about to explain.
When recording a standard Blu-ray disc, the portion of the disc that has been burned changes in appearance from high reflectivity to low reflectivity. The data side of the disc loses its mirror-like shine as the organic dye layer becomes crystallized by the recording laser. These Blu-ray discs work in the opposite way: the blank portion has a low reflectivity that becomes high as the information is recorded.
Aside from the slightly different appearance, JVC's Blu-ray discs are every bit as good as regular BD-R discs. They will be available in standard 25GB capacities. That's enough to hold 2 hours of high-definition video and audio. It's also a ton of storage space for computer files such as data backups and project archiving.
JVC's LTH Blu-ray discs are also compatible with Blu-ray standards. They should work fine on almost all players manufactured after 2007, and older models may support them with a firmware update from the manufacturer. These discs are also compatible with Sony PlayStation 3 video game consoles.
On top, the discs are available with a white hub printable surface for use with inkjet disc printers. This allows users to customize the discs by printing their own titles and artwork directly on the disc's surface using a specialized printer.
We are looking forward to offering these discs in our web store in the near future. In the meantime, be sure to check out our JVC Advanced Media store for great deals on professional-grade CD and DVD recordable media.