UltraViolet Format Makes its Debut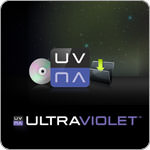 The past decade has been a turbulent one for the movie industry as it struggles with the convergence of physical content and digital entertainment. Peer-to-peer file sharing, high-profile lawsuits, and the global market for pirated content have made movie studios more vigilant than ever about protecting their films. Now, a new platform called UltraViolet may be the long-awaited answer that will appease both movie studios and consumers.
The idea behind UltraViolet is simple: if you buy a movie once, you should own it forever and be able to enjoy it on any devices you own. The key phrase is "buy once, play anywhere." From the get-go, it sounds like the movie studios have finally identified what customers have wanted all along: control and value.
By control, I mean the ability to watch a movie on any device you own. This may include a desktop or laptop computer, tablet, smartphone, or your own home theater. By value, I mean the ability to watch a movie you have purchased without an additional monthly subscription to a streaming video service (Amazon Prime, Hulu Plus, or Netflix).
Here's how it works: you can buy UltraViolet-branded DVD and Blu-ray discs such as Horrible Bosses or Green Lantern and play the physical disc like normal. You can also add that title to your digital storage locker, accessible at www.uvvu.com. This cloud-based system allows you and up to five other family members to stream the same movie from your storage locker.  Movies can also be downloaded for offline viewing and even burned to a disc!
The UltraViolet system went live on October 11th with just two launch titles. Two more movies are scheduled for release in November, followed by an additional seven titles throughout the month of December.
The UltraViolet Alliance includes over 70 companies involved in every aspect of movie production and distribution. Major studios including Fox Entertainment, LionsGate, NBC Universal, Paramount Pictures, Sony Pictures, and Warner Brothers are on board with the format. Computer manufacturers who support UltraViolet include Dell, HP, Fujitsu, and Toshiba. Even major cable providers such as Cox Communications, Comcast, and Rogers are part of the alliance!
Two notable absences are Apple and Disney. Apple already has feature-length films for sale through its iTunes Store, and Disney is rumored to be working on its own proprietary cloud-based system.
Will UltraViolet and its digital storage locker do for the movie industry what iTunes did for the music industry? Will it become a consumer favorite and a household name? How will UltraViolet discs fare in a market dominated by replicated Blu-ray discs? All we can do now is wait and see!