Rimage Corporation Acquires Qumu, Inc. for $52 Million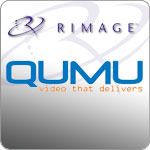 For over 10 years, the Rimage Corporation (NAS: RIMG) has been a leader in the CD/DVD publishing industry. In the summer of 2010, the company began testing the waters of the video market with their Rimage Surveillance System and Evidence Disc System products. Now, the company is taking a big plunge into video with the acquisition of Qumu, Inc.
The $52 million dollar deal was announced on October 10th by both companies and by industry news sources. The purchase price consists of $39 million in cash and one million shares of Common Stock. On the heels of this purchase, the board of directors has also approved a 70% increase in dividends to $0.17 per share.
If there were any doubts about which direction Rimage is headed, the company's future is now crystal clear: video, video, and video! With Qumu, Rimage is getting more than just a profitable small-to-midsize business. They're also getting Qumu's video creation systems and VideoNet, a content delivery network for streaming video.
These products are similar to Rimage's thermal CD/DVD printers and publishers because they help content creators get their videos, music, software, and other information into the hands of their audiences. However, many of Rimage's current products are aimed at high-level consumers and small businesses while Qumu's products are primarily intended for business-to-business customers.
The Rimage website is full of optimistic statements about the acquisition. It explains that the two companies will continue to operate separately for now, and that they will integrate their products and customer bases together over the next few years.
With the combination of streaming services and physical disc publishing, Rimage will offer its customers the ability to deliver "Content Everywhere." We will be keeping an eye on Rimage and Qumu to see how well they work together.