Windows 8 To Add New Disc Burning Features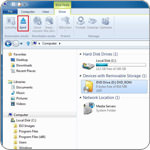 The Microsoft Corporation played a major role in pushing users towards optical CD/DVD media with the release of the Windows XP operating system in 2001. This was the first operating system to integrate CD and DVD burning features with drag-and-drop convenience. Microsoft then went on to add support for writing Blu-ray discs in Service Pack 2 for Windows Vista, a feature that is standard in Windows 7.
Now, official screenshots of the upcoming Windows 8 operating system show some major changes coming to the way users burn their blank CD-R and DVD-R discs.
Technology news site AfterDawn is reporting that Windows 8 will feature numerous interface changes, with Windows Explorer getting the "ribbon" toolbar treatment that debuted in Office 2007. The idea behind this is to organize the most commonly performed tasks into large groups of buttons separated by tabs, which will allow users to work more efficiently.
Microsoft realizes that a growing number of people are using their software on tablet and netbook computers. These ultra-mobile devices often times do not have a built-in CD/DVD disc drive for playing and recording discs. However, users still need discs for playing a computer game, reinstalling a program, and other tasks.
A new feature coming in Windows 8 is the ability to mount ISO images as virtual disc drives. An ISO image is a file that contains a snapshot of all of the data on a particular disc in one single, convenient file. This will allow users to load discs to their computer from an external Blu-ray burner or other disc drive, then mount the images as virtual disc drives while traveling. In the past, this functionality required purchasing third-party software. Now, it will be included as a component of Windows.
In spite of the proliferation of tablets, netbooks, and other devices without optical disc drives, Microsoft understands that disc formats are far from dead. By building in this "virtual disc drive" technology, they will enable users to store and retrieve the contents of their discs, even on devices without permanent disc drives.
We will keep you posted on Windows 8 as more news becomes available.