Samsung SE-208BW External CD/DVD Burner Goes Wireless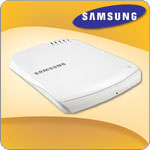 Just a few years ago, setting up a wireless home network was a relatively simple task. There was a modem, a router, and perhaps one to three computers to worry about. Today, most wireless networks include these things plus Internet-connected game consoles, Blu-ray players, tablets, smartphones, printers, and perhaps a network-attached storage (NAS) device such as an external hard drive. Now, Samsung has released another gizmo that connects to your home's 801.11b/g network: a wireless CD/DVD burner.
Technically, the new SE-208BW is more than just an external CD/DVD burner drive. Samsung calls it a "Smart Media Hub," and you'll see why in a minute. First and foremost though, this is a burner drive that will allow you to record to blank CD-R or DVD-R discs from any computer or device on your network.
Recording to a network-based optical disc drive is even easier than moving an external burner from one computer to another via USB cable. Plus, it allows users with a laptop, tablet, or smartphone to back up important files to physical media quickly and easily. It also works the other way: users can access a file from a disc drive on a mobile device or other computer.
Coming out with a Wi-Fi connected Samsung DVD burner is a pretty neat idea, but Samsung didn't stop there. They also built in a Wi-Fi repeater, which extends the range of your wireless network signal. The drive features an Ethernet port for connecting to your router or wall jack, and also functions as an access point for Wi-Fi enabled devices.
The Samsung SE-208BW can even function as a private server, thanks to its built-in Dynamic DNS support. Simply connect an external hard drive or USB flash drive along with the Ethernet cable and it becomes a cloud server, allowing you to access your data from anywhere in the world over the Internet! Now that's mobility!
As if all that weren't cool enough, the drive also supports playing back content on DLNA supported televisions. This is a feature that allows many newer TVs to play movies, music, and photos from external hard drives and other devices without a computer – and one that media enthusiasts will appreciate for sure!
The drive is also compatible with Windows 7 and Mac OS X, and features eco-friendly construction that uses lead-free solder and low power consumption. Perhaps the drive's only downfall is its lack of support for Blu-ray media.
Pricing for Samsung's Smart Media Hub has not yet been announced, but it is expected to go on sale in early 2012. We'll definitely keep you posted on the status of this wonder device as more information becomes available.