Sony Releases DRX-S90U Slim Portable DVD Burner Drive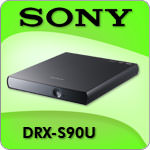 In the race to make laptops thinner, lighter, and have longer battery life, many manufacturers have started cutting out components such as optical disc drives. However, users are finding that they do need a disc drive for system backup, recovery, watching movies, installing software, burning music CDs, and lots of other reasons. So what's an ultralight laptop owner to do? Well, they might consider purchasing the new DRX-S90U slim portable DVD burner from Sony.
As the latest and greatest external DVD burner from Sony, this drive offers the ability to play and record CD and DVD discs while on the go. From the first impression, it's clear that Sony designed this drive with portability in mind. Unlike other portable drives, the DRX-S90U does not require an external AC adapter. Rather, it features dual USB port connections – one for power and one for data.
Its sleek and lightweight design is perfect for use with small computers that do not have optical disc drives. The drive easily fits in a laptop bag, carry-on, or briefcase. At just 320 grams, it weighs slightly more than half a pound.
The drive records single-layer DVD-R and DVD+R discs at 8X, dual-layer discs at 6X, and DVD+RW discs at 8X. CD recording speeds top out at an ample 24X. Again, this drive isn't about blazing write speeds or performance – it's about portability and convenience.
The retail package includes a replicated CD-ROM disc with Nero 10 burning software for Windows 7, Vista, and XP users. While the drive does not include any software for the Mac, it is compatible with OS X v10.4 (Tiger) or newer.
I think that this drive – which will cost under $70 bucks according to Sony – will become an essential accessory for portable computer users. Anyone with a netbook such as the ASUS Eee PC, Dell Mini, HP mini, and other computers without a built-in optical disc drive could benefit from having one around.
The drive will be available by the end of this month. For best results, we recommend picking up some quality blank recordable DVD-R or CD-R media to go with it. Major brands including Philips, Verbatim, Falcon Media, Taiyo Yuden, and USDM all offer excellent recordable discs that you can depend on. To shop for these and other discs, please visit www.CDROM2GO.com today!