New SATA 3.1 Spec Features Zero Power Optical Disc Drives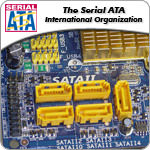 If you have ever opened up your computer case to install a new hard drive or optical disc drive, you might be familiar with the acronym SATA. It stands for Serial Advanced Technology Attachment and it refers to the cables and connectors that drives use to connect to the computer's mainboard. Recently, the industry association that developed the SATA interface has come out with an updated specification that has some exciting new features.
The group behind SATA is the Serial ATA International Organization, or SATA-IO for short. SATA-IO is made up of over 200 member companies worldwide and includes big names such as Hewlett-Packard, Intel, JMicron, Toshiba, Sandisk, Western Digital, and more. As members of the SATA-IO, these companies can work with each other to continue development of the Serial ATA specification.
On July 19th, the organization published the latest specification called SATA v3.1. This set of standards will allow hardware manufacturers to incorporate new features into their upcoming products. What kind of new features are we talking about? For starters, SATA 3.1 includes mSATA specifications for mobile computing devices, Queued Trim Command for solid-state drives (SSDs) with SATA interfaces, and improved Hardware Control Features.
The part that has got me excited about SATA 3.1 is a new feature called Zero-Power Optical Disc Drives. This feature will allow a computer system to cut power to an optical disc drive when it is idle, which results in decreased energy usage.
This is great news for laptop and notebook computer owners! By applying power to the drive only when it is reading or writing data to a blank CD-R or DVD disc, this could potentially increase the runtime of a laptop battery. With laptops, every milliwatt counts if it means conserving battery life!
Though desktop owners might not care much, it can result in energy savings for them as well. Think of a large company with hundreds or thousands of employee workstations. Reducing the power consumption of each workstation by just a small amount could result in huge savings on their energy bill.
With the official specifications available to drive manufacturers, it shouldn't be long now before support for Zero-Power ODDs appears in Blu-ray and DVD burner drives and computer motherboards.
It's worth mentioning that our Accutower CD/DVD duplicators and AV Pro Ultra duplicator towers are built with SATA drives because of their speed and reliability. You can pick one of these DVD/CD duplicators up at a great price when you visit the USDM Equipment Store by CDROM2GO.