Millenniata and LG to Release M-Disc Archival DVD Burner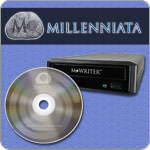 It was over a year ago that we introduced the Bravo SE Archive Publisher, a highly specialized machine from Primera Technology. This disc publisher is unique in that it does not record on organic dye-based optical media, but instead uses a special type of media called an M-Disc. The M-Disc uses a proprietary "stone-like" material that can survive extreme conditions with no loss of user data.
Until now, the only way to record an M-Disc was to buy a Bravo SE Archive publisher. Now, Millenniata has partnered with Hitachi-LG Storage to create an M-Disc writer drive that will be available for consumer use. The internal 5.25″ drive is expected to go on sale this October.
The M-Disc format has several advantages over traditional archival DVD-R media. While archival discs like those from MAM-A use a 24k gold reflective layer, M-Discs do not have a reflective layer at all. The information is recorded on to the "natural, stone-like" discs using a specially calibrated laser. Millenniata says that once they are recorded, M-Disc DVDs will play normally in any DVD drive or player.
As far as durability is concerned, M-Discs are better at surviving extreme conditions than dye-based DVD discs. A study conducted in 2009 by the Department of Defense concluded that M-Discs were the only recordable optical media to not suffer any data loss when subjected to extreme temperature, humidity, and irradiance.
The published 70-page report (PDF) includes all of the raw data and test results, and concludes that Millenniata's M-Disc DVDs were the only discs which were readable following the durability tests. Recordable DVDs from Mitsubishi, Verbatim, Taiyo Yuden, Delkin, and MAM-A did not pass according to ECMA standards.
Of course, this does not mean you should discredit archival DVDs entirely. A properly recorded and stored disc from MAM-A has been shown to last up to 100 years or more in accelerated life testing (ALT) conducted in a laboratory setting.
Millenniata boasts that their discs can survive being dunked in sub-zero liquid nitrogen and boiling hot water with no data loss. While this is impressive, it is highly unlikely that the majority of home users backing up their home movies, photos, and personal data are fed up because their archival DVDs cannot survive a liquid nitrogen bath. For most users, a regular archival DVD is perfect for their data storage needs.
While the durability is impressive, the M-Disc format is not without its drawbacks. M-Disc DVDs can only be recorded by specialized Millenniata/Hitachi-LG Storage drives. Though they will play in any DVD drive, they cannot be recorded by Pioneer, Samsung, or whatever brand of DVD burner you currently have.
Another drawback is price. Last year, we wrote that M-Disc media was approximately $23 per disc. Since then, it has come down to about $3 dollars per disc. In spite of the major price drop, M-Discs are still more expensive than MAM-A Gold Archival DVD-R discs which cost just $1.99 each in 100-pack quantities.
Finally, there is the issue of burn speed. Currently, M-Discs top out at a write speed of 4X according to the company. The discs I just mentioned from MAM-A are 8X recordable, which reduces the time needed to record a full 4.7GB disc significantly.
What do you think? Is the performance of the M-Disc format worth the investment, or are they a solution to a problem that does not exist? Do dye-based archival discs offer a practical, affordable, and realistic solution to long-term data storage, or are they simply not durable enough to be considered "archival-quality?" Tell us your opinion by posting a comment below!
UPDATE: The Bravo SE Archive Publisher has been discontinued.