Columbia House Launches Blu-ray Disc Club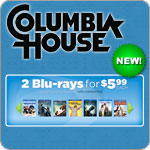 If you picked up a magazine or newspaper at all during the 1980s or 1990s, you have probably seen an ad for Columbia House. The music-by-mail outfit relied heavily on advertising campaigns that lured in new customers with promises of a dozen tapes or compact discs for just pennies when you joined their club.
After joining Columbia House, a new pre-selected CD or cassette would arrive in the mail every month. Customers would continue to receive and be billed for the music until they cancelled their membership. If a pre-selected tape or cassette arrived that the subscriber was not interested in purchasing, they could send it back within 10 days and not be charged for it. However, users were contracted to make a minimum number of purchases per year upon joining.
The program's business practices were controversial under Columbia Records' ownership, but it proved that the idea of selling compact cassettes and replicated CDs through direct mailings was viable. The company fell on hard times by 2001, citing competition from online retailers such as Amazon.com for the loss in mail-order purchases. Columbia House changed hands in 2005 and again in 2008, finally discontinuing its mail-order music services in 2009.
A new company using the Columbia House name has recently announced the launch of a membership program for movies on Blu-ray discs. The program is already up and running, with Columbia House targeting both new user registrations and users of its current DVD purchasing club. The website for the DVD club prominently states that "We don't make you pay for streaming to get your DVDs," a clear jab at Netflix.
Members of the new club will be able to purchase replicated Blu-ray movies for just $5.99 each, as long as you agree to buy three more movies within the next year at regular club prices. The lowest priced movies are $19.99, so a 1-year membership would get a user five Blu-ray movies at a cost of $71.95.
This service does not aim to compete with video streaming services such as Netflix, Hulu, and Amazon Prime. The difference is that with Columbia House, you are actually purchasing a physical copy of the movie on a replicated disc, not just the rights to stream it for a predetermined period of time. At an average cost of less than $15 per disc, it sounds like a pretty good deal if you are looking to increase your library of Blu-ray discs.
What do you think of Columbia House's new program for buying Blu-ray movies? Is it a good deal, or is it simply too good to be true?