JVC/Taiyo Yuden's Partnership: Exclusive Interview with JVC Advanced Media USA's President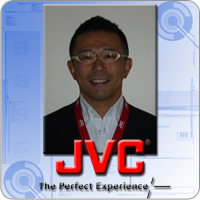 Taiyo Yuden is a pioneer in terms of setting the highest standards for recordable CDs and DVDs.  When the company joined forces less than two years ago with the JVC brand, many users who had fallen in love with Taiyo Yuden discs were not quite sure how the shift affected them.  Would they be getting the same quality media manufactured with the same components and integrity?  Were Taiyo Yuden discs as we knew them gone for good or was it a simple name change?
CDROM2GO had the privilege to conduct an exclusive interview with JVC Advanced Media USA's president, Masatoshi Inui, who was able to clarify how the JVC brand and Taiyo Yuden fit into today's optical media picture.  Inui also revealed developments in the company's plans for Blu-ray, how customers would be affected by a smaller workforce, the future role of optical media and why JVC Advanced Media has all it needs to do some trailblazing of its own.
CDROM2GO: How did JVC Advanced Media USA become a leader in the disc industry?
Masatoshi Inui: JVC Advanced Media USA is a wholly-owned subsidiary of Victor Advanced Media Co., Ltd (Japan), which is a joint-venture between JVC and Taiyo Yuden. We have been globally engaged in the recording media business for a long time, including video tapes (VHS), magnetic tapes (for professional use), and recordable CD/DVD media.
Our parent company, Victor Advanced Media (Japan) has a strong technological capacity for the development of recording technology, and has manufactured high quality optical discs at several manufacturers worldwide including Taiyo Yuden. As one of our suppliers, Taiyo Yuden can confirm our highest quality requirements and continue to supply high quality discs for business use customers. JVC Advanced Media USA is exclusively selling Victor Advanced Media's products from while controlling its design, specification, quality, and so on. Taiyo Yuden no longer sells optical discs in the U.S.
CDROM2GO: Are users getting the same Taiyo Yuden quality from JVC Advanced Media?
Inui: The products we are selling are not re-branded from Taiyo Yuden. JVC branded optical discs are now being widely accepted in the market especially among business to business users, especially since we are distributing high-quality products which were manufactured at Taiyo Yuden according to our requirements.
CDROM2GO: How has Taiyo Yuden benefitted from the JVC brand name?
Inui: We have continued to engage the recording media business (tapes and discs) for a long time, and we consistently manufacture and sell our own products under our JVC brand and on an OEM basis. Taiyo Yuden is one of the excellent companies with a long history of developing high quality CD-R and other optical discs. Thanks to the establishment of a joint venture with Taiyo Yuden, we can use these technologies. Because of this, JVC is positioned to sell high quality, branded discs, with more powerful marketing, especially with the reputation for high quality and JVC's brand recognition.
CDROM2GO: Last fall, Taiyo Yuden significantly reduced its production and workforce.  What can you tell us regarding the situation?
Inui: Unfortunately, we are not sure about the reason or background for Taiyo Yuden's decision. However, I am sure that we can keep the stable supply of high quality products for our customers.
CDROM2GO: Taiyo Yuden was a known manufacturer of BD-R LTH, does the company still plan on manufacturing this type of BD-R?
Inui: We will supply BD-R to our markets based on our technology, which we have manufactured at Taiyo Yuden. We are continuing to request that Taiyo Yuden manufacture BD-R LTH according to our requirements, because it is competitive and fits well in the BD-R market. I am sure that the market will expand. We will give our utmost effort to expand JVC branded BD-R LTH.
CDROM2GO: What plans are in effect to produce standard BD-R that is more compatible for playback in most Blu-ray players?
Inui: Our parent company, Victor Advanced Media Co., Ltd is producing several types of BD-R discs including standard ones. Some of our products are supplied from Taiyo Yuden.  We have positioned BD-R LTH as one of our key products because, as you know, the current drives in the market are compatible with LTH and firmware for the installed drives has been developed in most cases. We do not think that compatibility is an issue for LTH-type discs.
CDROM2GO: Due to March's earthquake in northern Japan, what is the impact on current and future product shipments?
Inui: We do not know in detail the situation in northern Japan. But, we can confirm that our supply is now back on the right track. There is no major impact right now.
CDROM2GO: In what applications do you see optical media as a viable form of data storage in the future?
Inui: We trust that optical discs are the most suitable products for long–term data retention, as long as quality and consistency are maintained. The key message will be "safe data retention, for a long term future," which is one of essential characteristics for recording media. We will contribute to industry by introducing special products for long term archiving.
CDROM2GO: Mr. Inui, thank you for taking the time to explain JVC Advanced Media's operations and current developments!