GE Unveils 500GB Micro-Holographic Discs with Blu-ray Speeds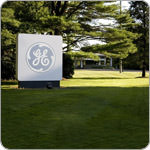 As one of the largest, most respected, and most innovative companies in the world, General Electric spends a hefty portion of its annual budget on research and development. Earlier this week, GE announced that a team of the company's researchers have developed a next-generation optical disc format using micro-holographic technology.
The as-yet-unnamed disc format was unveiled earlier this week at an international symposium of high-tech companies held in Kauai, Hawaii. The International Symposium on Optical Memory and Optical Data Storage (ISOM/OSS) featured presentations by Hitachi, Mitsubishi, Samsung, Sony, and a number of prestigious Universities and research labs from around the world.
GE's demonstration is a major breakthrough in establishing the future of optical storage beyond the Blu-ray format. The 25GB and 50GB capacities of today's Blu-ray recordable discs offer up to 10 times more storage space than a traditional 4.7GB recordable DVD. Now, GE's discs will hold 10 times more than a current Blu-ray disc! Wow!
According to an official press release from GE, the experimental new discs also offer "a speed to match Blu-ray's [speeds]." This is good news if the discs eventually do make it to the consumer market, because it will provide computer users with an alternative to hard drives for data backup and storage.
There are also other possibilities for super-high capacity holographic discs besides computer data storage. Currently, Blu-ray discs offer high-definition video at 1920×1080 resolution. This is often called 1080p or 1080i because there are 1,080 rows of pixels displayed on the screen.
An emerging new standard for video is called "4k Resolution," which has 4,000 lines of horizontal resolution. GE's micro-holographic discs would be ideal for storing videos in 4k Resolution as the video size will undoubtedly trump that of Blu-ray. It would also offer significantly sharper picture and color quality thanks to an increased level of detail.
It could be years before this technology is available at the consumer level, and years after that before it becomes affordable. Still, it's nice to know that scientists and engineers at companies like GE are thinking ahead and developing technologies that we all might be using someday. After all, we would not have Blu-ray discs today without the forward-thinking engineers of the past!
While GE's discs are still an experimental technology, Blu-ray discs are widely available and very affordable today. They offer high-definition video and high-capacity data storage of 25GB or 50GB per disc.
You can check out companies like CDROM2GO for complete Blu-ray duplication services as well as the supplies to do it yourself. They carry a full selection of blank media, duplicator towers, disc printers, Blu-ray cases, and much, much more! For more information and pricing, jump over to CDROM2GO.com today!