5 Things You Should Know Before Buying A CD Printer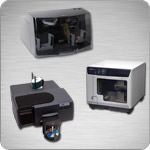 Creating your own customized discs with a CD printer is not just for hobbyists. For many people, it is their business. Everyone from musicians and videographers to software companies, churches, and other professionals depend on automated disc printers to distribute their works to customers. Whether you already own a disc printer or you're thinking about buying your first one, here are 5 things you should know about CD printers.
1. Know the Quality
Not all disc printers are created equal. Thermal disc printers offer highly accurate colors but usually have lower resolution print heads (400 or 600 dpi). Older inkjet printers had color stability issues as the ink ran out, but this is not much of an issue with newer machines. Newer inkjet printers have high-resolution print heads up to 4800 dpi.
In our Epson DiscProducer Autoprinter Review from 2010, we found that it printed photo-quality images and crystal clear text as small as 3 points – something thermal disc printers can not do. Although it is an inkjet print, we found that the DiscProducer looked every bit as good (if not better) than a more expensive thermal-printed disc.
2. Know the Speed
If you need to print large numbers of discs or if you always seem to be under a deadline, it's important to consider the speed of your automated CD printer. Though they all accomplish the same task, some machines do it faster than others. This may be because of better robotics, a faster print head, or a more efficient design. Be sure to check out our CD/DVD Autoprinter Speed Test Video to see which of the three most popular printers is the fastest at printing a full-color, full-coverage disc!
3. Know the Costs
We've looked at the costs of printing with and inkjet printer vs. a thermal disc printer extensively. Our Cost Per Print Comparison shows the approximate cost of printing with several of the most popular machines in the industry. It's important to consider the cost of purchasing ink when buying a CD printer. Picking the wrong one could end up costing hundreds of dollars a year in ink, while picking the right one could save you a bundle!
4. Know the Maintenance
There is more to buying a disc printer than just the purchase price. What will it cost to maintain? A thermal disc printer such as a TEAC P-55 will need the print head and rollers cleaned from time to time. Fortunately, thermal printer cleaning kits from CDROM2GO are very inexpensive and easy to use.
Inkjet printers such as the Primera Bravo 4100, Microboards MX-1, MX-2, and PF-Pro all have user-replaceable print heads. When the print quality begins to degrade (usually over 30,000 prints or more), these parts can be changed out to extend the life of the machine significantly. New print heads cost significantly less than replacing the whole machine.
5. Know the Warranty
Hopefully your machine will not need to be serviced, but if it does, you should be familiar with the warranty the manufacturer offers. Most CD printer manufacturers offer a 1 year limited warranty, but extended warranties are usually available for an additional fee.
Before you go out and purchase a disc printer, it is important to consider these five factors when researching machines. You can find a wide selection of disc printers from major manufacturers including Primera, Microboards, TEAC, and Epson when you shop at CDROM2GO.com. Check them out today!