Epson Recognizes US Digital Media with Partnership Excellence and Revenue Growth Awards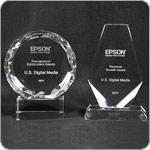 Most of our regular blog readers are familiar with CDROM2GO, the retail website which offers a wide variety of products, supplies, and affordable CD duplication services. The parent company behind CDROM2GO.com is US Digital Media, which is based in Phoenix, Arizona. Recently, US Digital Media was recognized by Epson America with some very special awards.
Last month, Epson held its annual Partner Executive Conference at the El Conquistador, a Waldorf Astoria Hotel, in beautiful Puerto Rico. US Digital Media was shocked and surprised to learn that we had won not one, but two awards!
The first is the Partnership Excellence award. This award shows the dedication that US Digital Media has to Epson and its fine products like the DiscProducer. CDROM2GO has supported the DiscProducer product from the beginning.
From our first reviews of the DiscProducer to the head-to-head battles with competing machines and our own in-house print tests, we have been very impressed with the quality and the performance of the machines. Now, the product family has expanded to include the Discproducer PP-50, a 50-disc Publisher, and two network-capable versions. Whichever DiscProducer machine fits your needs, you'll find it in the Epson Store at CDROM2GO.
The second award is the Revenue Growth Award. Epson presented this award to US Digital Media for achieving the highest year-over-year growth in sales of Epson products. This tremendous honor could not have been done without you, our customers. We have received a very positive response from our users regarding the DiscProducer platform, and it's not hard to see why.
From its six-color ink cartridge system to its whisper-quiet robotics, the Epson DiscProducer is a professional-grade machine that users can depend on. The high-capacity ink cartridges can print up to 1,000 discs or more, while the dual DVD/CD burner drives make disc publishing a breeze.
US Digital Media is honored to receive these recognitions from Epson. As a recognized VAR Partner, we strive for the best in quality and customer service with all of our products, including those from Epson.
To learn more about the Discproducer and Epson's plans for the future, please check out our exclusive interview with Bryan Getz, Product Manager at Epson America. You can also visit our site to shop for the Discproducer and other great Epson products and accessories.