Streaming vs. Blu-ray: The Battle for Movie Quality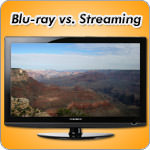 The market for online video services is heating up with major players including Netflix, Hulu, and Amazon all competing with each other. These Streaming Video-on-Demand services offer a catalog of popular movies and TV shows for a monthly fee. With millions of households signing up for these streaming video services, why would anyone stick with packaged media like replicated Blu-ray discs? To answer that question, we're going to look at some of the key differences between Blu-ray and streaming videos.
The first major difference is quality. In order to stream a full-length movie to a customer's computer, the picture and sound quality must be heavily compressed. With some services, this may result in video that looks "blocky" or audio that sounds "tinny."
Blu-ray movies look better than streaming videos because they are less compressed. The 25 or 50GB of space on a Blu-ray disc enables movies to be stored at 1080p for a true HD experience.
The next major difference is portability. Blu-ray movies can be viewed at home, on a plane, on a long car trip, and just about anywhere you can bring a laptop computer. Streaming movies only work in areas with Internet connectivity, and even then if you are on a wireless connection you may not have the best speed or signal strength.
A third major difference between streaming video and Blu-ray discs is selection. For example, Netflix offers more than 100,000 movies on Blu-ray and DVD discs, and only about 17,000 streaming titles. By comparison, Amazon offers a paltry 5,000 movies and TV shows in their streaming catalog.
It's very clear that when it comes to variety, there are simply a greater number of choices available on discs. If you're looking to watch more than just new releases, the selection among streaming services is pretty limited at the moment.
Finally, streaming videos and Blu-ray discs have a major price disagreement as well. Streaming services are based on a monthly subscription fee. Like a gym membership, you are paying for it even on the days you don't use it. A Blu-ray disc is simple: you buy it once and then you own it. That's it. There are no monthly fees or renewals to purchase the Blu-ray movies you want to add to your collection.
Last but not least, there is a convenience factor to having movies on discs. A Blu-ray disc will still be there if your computer crashes. A Blu-ray disc can easily be loaned to or borrowed from a friend. They can be given as gifts for a birthday or special occasion. You simply cannot do these things with a streaming file yet.
As popular as streaming video services are, nothing beats replicated Blu-ray discs when it comes to quality, portability, selection, price, and convenience.